Mouse Guard Marches On
The adorable little troopers are back this Wednesday!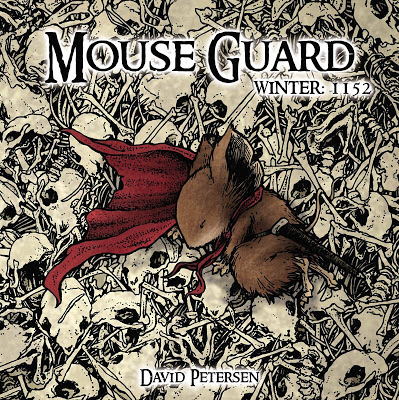 David Petersen announced on his website and blog that the long-delayed issue will finally be available this week. "This is my favorite issue to-date, has my favorite cover, and features Mouse Guard music!" said Petersen. He apparently needed a ballad for this issue and wanted it to be as realistic as possible. He turned to his friend Jesse Glenn who recorded a tune to which Petersen finally wrote the words. To top that, Glenn recorded a version with him singing the ballad that Petersen promises to post on his blog next Wednesday.
As we discussed in my interview over the summer Petersen has been very busy creating a MG role-playing game which he also announced is now set for a December 24th release date. A restructuring at Archaia Studios Press and acquisition by Kunoichi further prevented MG's release and kept fans wondering the fate of our brave little friends. Petersen discusses his own experiences:
I can't thank fans enough for not only taking a chance on a odd-shaped book about mice with swords, but also for being so patient and loyal. I have heard from many of you offering support and kind words when the book was in publishing limbo. Trust me when I say that it meant a great deal and helped me through a frustrating and stressful time. Hopefully that is all behind us now, and I can focus on just telling the best story I can and hopefully entertaining you fine folks in the process.
I, for one, can't wait to get my hands on the new issue. It feels like forever since the last one and I've been anxiously anticipating where the story is going to go next. I know I've said this before but if you've never read MG do yourself a favor and pick up Fall 1152 and get to know the in's-and-out's of Petersen's wonderful creations for yourself. You won't be disappointed.
You can also view and discuss this article at GEN.