Natalie Portman wants to get Professional
Before there was Hit-Girl, there was Mathilda. Seeing adolescents toting guns and generally beating the crap out of people has become commonplace but back in 1992, watching tiny Mathilda brandishing a hand gun in Luc Besson's
Léon: The Professional
was a tad more controversial. Turns out child actress-turned-Academy Award nominated adult, Natalie Portman is more than willing to reprise her famous role, but not for just anyone.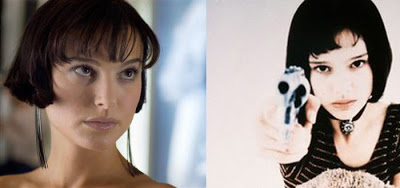 MTV News recently spoke with Portman during a press junket for her upcoming film Black Swan and broached the subject of a sequel to the cult classic. They asked her about the rumored screenplay and while she seemed to admit it's existence, that's as far as she'll go.
"No, I have never read it because Luc won't direct it himself, and so I'm only interested…I told him, I told him if he would do it himself then I would be there in two seconds but he won't so…"
Besson is one of my favorite directors and while a lot of people over the year's have told me they think he should make a sequel to
The Fifth Element
(my favorite film of all-time), I'd never agree that was a good idea. However, in my opinion, a
Léon
sequel would be magical. I'm with Portman though, no Besson, no-go. What do you think? Could you see Portman as Mathilda today?