ND Stevenson's Animated Nimona Gets a Second Chance at Netflix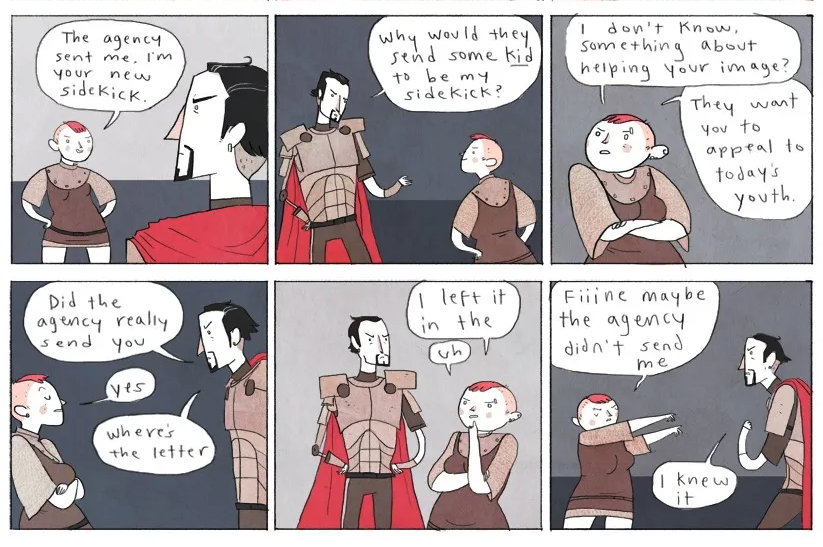 After 20th Century Fox was enveloped by Disney in 2019, ND Stevenson's animated version of their Eisner Award-winning fantasy story Nimona was thought to be a goner. Now, thanks to (you guessed it) Netflix and Annapurna Pictures, the feature film will be made after all.
Stevenson broke the news on Twitter earlier today writing: "Nimona's always been a spunky little story that just wouldn't stop. She's a fighter…but she's also got some really awesome people fighting for her. I am excited out of my mind to announce that THE NIMONA MOVIE IS ALIVE…coming at you in 2023 from Annapurna and Netflix."
The streamer followed by announcing Nimona would be voiced by Kick-Ass star Chloë Grace Moretz. The actor had been attached to Nimona for a while and told her Instagram followers, "Can't wait for you all to be able to see this incredible film I've been lucky enough to be part of over the past couple years!" She'll be joined by Riz Ahmed (Rogue One) and Eugene Lee Yang of "The Try Guys" (who was also previously attached). Nimona will be directed by Nick Bruno and Troy Quane.
It was quite a road to get here. Stevenson actually created what would later become the character back in high school but adapted her for a college course. Initially, the whole story played out on Tumblr but was later published in graphic novel form by HarperCollins. In 2015, 20th Century Fox acquired the rights to make an animated film under its subsidiary Blue Sky Studios and Patrick Osborne was set to direct with Marc Haimes scripting. When Disney took over in 2019, the project was postponed a few times until 2021 when the studio announced it was closing Blue Sky and canceling it entirely (even though it was reportedly 75% done).
Just recently, and amidst public and internal uproar over the billion-dollar company's actions surrounding the "Don't Say Gay" bill in Florida, former Disney/Blue Sky employees spoke to Insider alleging leadership objected to queer elements of Nimona's story, including two men kissing. LGBTQIA+ Pixar employees shared a similar sentiment about interference last week in a statement that read in part, "We at Pixar have personally witnessed beautiful stories, full of diverse characters, come back from Disney corporate reviews shaved down to crumbs of what they once were. Even if creating LGBTQIA+ content was the answer to fixing the discriminatory legislation in the world, we are being barred from creating it."
It's not yet been reported how (and for how much) Annapurna's acquisition of Nimona went down but we do know production started early last year. With a new summary of the film released, it's safe to say the studio won't be interfering with the story: "A Knight is framed for a crime he didn't commit and the only person who can help him prove his innocence is Nimona, a shape-shifting teen who might also be a monster he's sworn to kill. Set in a techno-medieval world unlike anything animation has tackled before, this is a story about the labels we assign to people and the shapeshifter who refuses to be defined by anyone."
Nimona will stream on Netflix sometime in 2023 (do Mouse Guard next please!). While you wait, if you've not yet read Stevenson's Star Wars/Boba Fett fancomic, you absolutely need to. You can start here: