L.A. is for nerds!
Los Angeles. The City of Angels. Home to movie stars and folks looking to make it big. It rained the first two days I was there, the only star sighting I had was Kenny Bania and I didn't see the Hollywood sign once. So, what did I see? Nerds. Lots and lots of nerds.
I hear my L.A. friends talk about Golden Apple Comics all the time, not to mention the Comic Book Resources offices are just upstairs. So it was with happy coincidence CBR and Golden Apple were hosting a party the day after I arrived. How nice of them to throw a party for me. Ok, it was a holiday party but still.
The store has lots of goodies for people like us of course, a replica Terminator head, Lantern corps t-shirts and Lightsaber chopsticks. This particular item was something of a wonder if you'll excuse the obvious pun. The first appearance of Wonder Woman in Sensation Comics circa 1942 with a CGC rating of 7.0. Any guesses as to how much they're asking? $20,000. Wowza.
After the party, I asked my boss Jonah from CBR to give me a tour of the office. Let me just say, if I lived in California, I would love coming to work. Besides the great design scheme, there's an XBOX and toys sitting all over. I'm very impressed the site publishes content at all. Also, sitting atop a shelf, I spotted CBR's Eisner Award. Considering it was awarded the year I began writing for them I'm gonna go out on a limb and call it "our Eisner." :) By the way, "our Eisner" is really f'ing heavy.
L.A. is a lot bigger than I imagined and all those areas you think are other cities in California are really all just part of L.A. Like Hollywood for instance. I traveled there one day to do the ultra-touristy thing and scoot along the Walk of Fame. And look who I ran into first. I'm always in convention/cosplay mode so I asked her if I could take her picture (the polite thing to do in any circumstance really). She said, "Sure, I pose for tips, is that ok?" Yeah, what the hell, I've got a buck or two I can give Catwoman. I should have known I wouldn't get away that easily. Looking into my wallet, the smallest bill I had was a five. Damn. As some random passerby snapped her picture without asking I gave her the five and said I hoped it made up for him. No hot-Jack-Sparrow-impersonator you cannot have a dollar, Catwoman cleaned me out.
The whole area by Grauman's Chinese Theater was actually pretty busy for a Monday afternoon. That and the costumers trying to make a buck made it difficult to get many pictures of the stars or hand and footprints but I did get a few I enjoyed like the Star Trek and Harry Potter casts.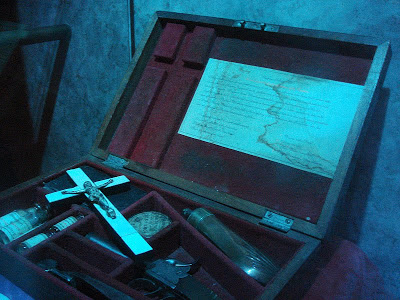 I visited Ripley's Believe It Or Not, since that's always entertaining, and found something I wanted to steal. If it wasn't under glass and I wasn't in the basement relying on an employee to take me back upstairs in a wheelchair lift when I was done, I'd be slaying vampires as we speak. It's not the same Vampire Killing Kit that was up for sale last year but it's close. Sigh.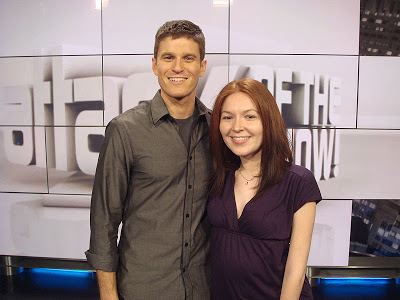 The highlight of my trip was the day I got to visit the G4 building. I know a few people who work there and they got me in to watch the live taping of Attack of the Show that night. I've been in television studios practically my entire life so it wasn't that aspect that impressed me but getting to see professionals at work doing exactly what I hope to do one day. Unfortunately Olivia Munn wasn't there, Sarah Jean Underwood was subbing for her but the man himself, Kevin Pereira was. He was really friendly and cool and I'm so glad I got a chance to watch him work because he's really talented. I also got to see Blair Herter and Chris Gore to their thing as well. Thanks to everyone on set for having me and letting me feel right at home. Now hire me.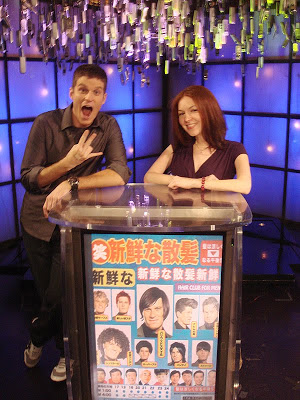 Post AOTS, I headed upstairs to join Courtney Kraft (The Otaku Goddess) for her webshow on G4 Interactive. She usually discusses video games but was nice enough to branch off into the comic world for me for a while. We did talk about Batman: Arkham Asylum though. Here it is in case you missed it. Count how many times I mention Green Lantern. :)
Right near the G4 studios is the Los Angeles County Museum of Art, or LACMA. I figured I'd take in some culture but I was happy to see I couldn't escape the geek – they had a Indian Comic Art exhibit. It's called Heroes and Villains: The Battle for Good in India's Comics and it was really, really cool.
Abishek Singh is the artist on the one above, below we have a very interesting piece of art that wasn't part of the Indian exhibit but mixed in with some Mayan artifacts. So you can understand why I did a double-take when I saw the Man of Steel. This is a work by Enrique Chagoya.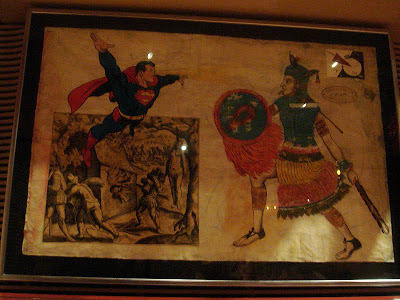 My last night in L.A. I organized a Geek Girl Dinner. I know so many girls like myself via Twitter or the internet at large that I thought it would be a nice way to get us all together. I actually got to meet Geek Girl Diva first when I ran into her at Disneyland earlier in the week but it was nice to finally chat for real. Here's her thoughts on the night. Me? I think it was a rousing success to say the least and…not one of us thought to take a picture. What kind of girls are we? Whatever, we had a hot waiter, drank delicious beer and got a free dessert. Now all of you move to New Jersey so we can make this a weekly thing. :)
Thanks for having me Los Angeles! See you soon?