Neil Gaiman News
It's been a Neil Gaiman kind of day.
I remembered hearing a long time ago about how there was going to be an animated adaptation of Neil Gaiman's Coraline. I found out today it's going to be 3-D stop-motion animation, my favorite kind! Not only that, it's being directed by Henry Selick, the man behind The Nightmare Before Christmas. While researching I found out Selick was born and raised right here in New Jersey and did storyboard fantasy sequences for Return to Oz. I tell ya, the best people come from Jersey.
Anyhow, there are a couple of cool articles on
Film In Focus
, the new website by Focus Features who is distributing the film.
The first one
talks about how Coraline is the successor to many classic other-world fantasy books like Alice In Wonderland, The Wizard of Oz and Peter Pan and even compares it to other famous works much farther back.
The second one
gives us a history lesson on Gaiman himself and what led him to this point in his career.
If you want to find out more about the film itself check out this
article from Aint It Cool News
. They got to see a 30-minute preview of Coraline as well as interview Selick. There's also some amazing preview clips and behind-the-scenes features around the internet as well. Here are three at random:
one
,
two
,
three
. The
Coraline
website
is now live but not very active as far as I can tell yet. Either way I'm very excited for February 6, when this amazing fantasy comes to life in theaters.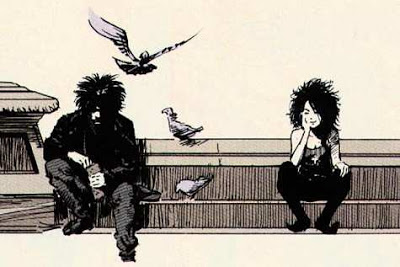 Some other very exciting Neil Gaiman news came to my attention today.
The 20th anniversary of The Sandman
is being celebrated November 8th in New York City in the form of a live dramatic reading. The event is being held at the Helen Mills Theater and is presented by and benefiting the
Comic Book Legal Defense Fund
 of which Gaiman is an avid supporter. 
Veteran voice actor Tom Wayland and others, including
The Group That Shall Not Be Named
member Racheline who brought this to my attention, will be reading excerpts from two of the series' stories. Only 100 tickets are available for this unique event so get yours immediately if you're interested. And yes, Neil will be there.