Nerds rule New York City
New Yorkers are used to seeing a lot of weird stuff so when 77,000 nerds descend on the Jacob Javits Center for the New York Comic Con barely an eyebrow is raised. That is, until a certain nerdy girl in a scooter goes driving past with a sign that reads, "Has Boobs, Reads Comics." It's safe to say I did not go unnoticed. 
This years NYCC was supposed to be bigger and better. I'd say it was about the same and about the same. Not much changed on the show floor but the panels were moved to the other side of the building to steer us away from the Travel Show also going on this weekend. The panels that I attended where great (I'll get to those later) but most of the rooms they were held in were terrible. I hate to say it but I think NYCC has already outgrown the Javits. They've already announced the next NYCC will be held October of 2010, if they don't utilize the entire building they're going to have a problem.
James Robinson
Ok, now onto the fun stuff! Friday I spent most of the day circling Artist Alley in search of new additions to my sketchbook. I got way more than I expected and I'm extremely happy with the results. I'm going to scan them all and post them later in the week. 
I attended three panels on Friday. First was the Dark Horse Comics panel where I got some fun news about the Buffy comic. Another Tales of the Vampire story is on it's way. Next was the DC Nation panel which felt too short. I was however, able to get pictures with two of my favorite creators. James Robinson and George Perez. Both were really nice and I actually managed to tell Robinson how much I loved his Starman run without babbling like a lunatic. 
Finally, I met up with my two favorite blog buddies
Freakgirl
and
Geekboy
(check out their wrap-ups too) and along with their two friends we attended the premiere screening of the new Wonder Woman animated film. It's the best DC animated film I've ever seen. They've really outdone themselves. Sadly, none of the actors were in attendance at the post-panel. I'll be doing a separate panel post later in the week also that will go into more detail of them all.
George Perez
Saturday was exhausting as it was the day I dressed in costume as Catwoman. Don't worry, a separate costume post will follow as well. If anyone has any pictures of me send them along so I can link to them or include them. 
I unexpectedly sat in on the Robot Chicken panel which was a riot. Also, I was five feet away from Seth Green. Enough said. Immediately after was the DC Universe panel in the same room. We finally found out Geoff John's Blackest Night will start in July, Doom Patrol is coming back and there are four 6-issue mini-series coming out of Final Crisis. 
If you can believe it, the Torchwood panel was right after the DC panel and also in the same room. I never had to move an inch but it did give me the opportunity to save seats in the front row for Freakgirl, Geekboy and friends. Whitney Matheson from
USAToday's Pop Candy
moderated the small panel of director Euros Lyn and star Eve Myles. It was the best panel of the weekend. Myles is gorgeous in person not to mention gracious and hysterical. I really hope the organizers realize what a hit it was and have another, larger panel next time.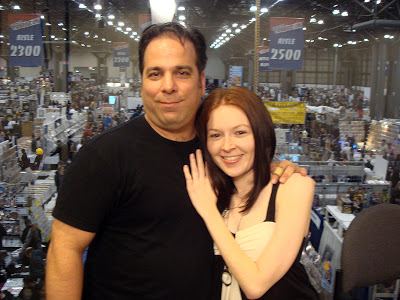 Jimmy Palmiotti
Sunday was a whirlwind. If you were following me on Twitter, got one of my Myspace/Facebook messages or got the hint from
this post
you know I started working with
Comic Book Resources
. This was something a long time in the works that finally came to fruition this past weekend. I wrote an article for each day of the convention which you can now find on their site:
I also contributed to their CBR Live! blogging throughout the weekend as well. You can see
my contributions here
, but the most exciting part is what happened Sunday afternoon. That's when I interviewed Daniel Dae Kim from Lost and Jimmy Palmiotti on CBR TV. I have no words for how much this meant to me. Besides talking to two really cool people, this is something I've been working towards for pretty much my entire life. Ok, enough of the touchy-feely crap, it was awesome and I'll link you to the videos when they're up later in the week!
Thanks to everyone who stopped and said hello to me at the convention and sorry to those that didn't get to because I sped by too quickly! I'm glad most people can appreciate my humor. :)