Nerdy Bird am LOOOOOOVE baseball.
In case you didn't get that, it's Bizarro speak for, I hate baseball. Actually, hate is a strong word, I just couldn't care less for sports. But for those of you who love sports and comics, Sports Illustrated has something extra special on stands today.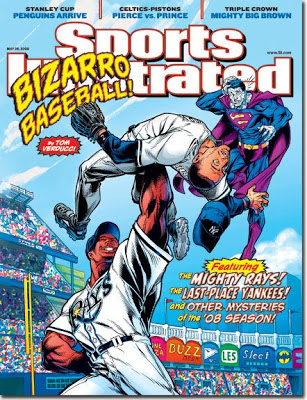 This marks the first time a DC Comics character has graced the cover of SI. The reason? SI figured it was appropriate to show how "Bizarro" the Major League Baseball season has been so far. Lesser-known, and usually less successful, Tampa Bay Devil Rays are near the top of the league while multiple World Series winners and poster-boys of baseball, the New York Yankees are near the bottom. That's where the idea for the cover came from and where Mark Bagley got his inspiration to draw it. That's Devil Ray Carl Crawford tossing Yankee Derek Jeter around like a rag doll while Bizarro looks thoroughly confused, as always.
Karl Story did the inks for the cover and Alex Sinclair finished it up with the colors. Bagley is currently hard at work on the art for all 52 issues of the new weekly series at DC, Trinity, out next week. The "Bizarro Baseball" issue of Sports Illustrated is on stands now.
digg_url = 'http://www.thenerdybird.com/2008/05/nerdy-bird-am-loooooove-baseball.html';