A Special Nerdy Bird Discount Code For FanMail, a New Fangirl Friendly Subscription Box!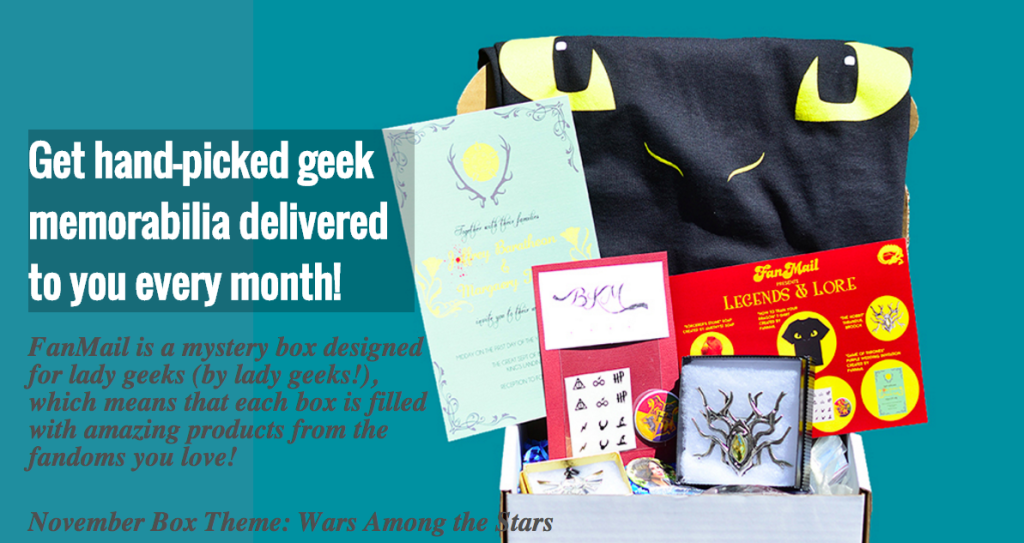 There's a new subscription box service on the block! Run by two women, FanMail is offering super cool items specifically geared toward fangirls. And they've give me a special discount to pass onto you!
You know about Loot Crate, Smuggler's Bounty, and more but allow me to introduce you to FanMail! The service includes items from your favorite fandoms but creators Jenny and Rose explain why their service is a bit unique, "Our boxes contain a variety of memorabilia and collectibles, some old, some new, some handmade, some fanmade. Among the items you may find are exclusive comics and t-shirts, jewelry, stationery, books, autographs, photos and much more."
Like most of the services, FanMail goes by a different theme each month and November's is: "Wars Among The Stars."
Our November theme is Wars Among the Stars! Join us as we celebrate Star Wars, Guardians of the Galaxy and Firefly! pic.twitter.com/vjOGb6HP3j

— FanMail (@fanmailbox) October 23, 2015
They've offered to send me one but also generously offered a coupon code for readers of TheNerdyBird.com for $2 off your first box! The code is: NERDYBIRD
Another cool thing about FanMail?
Every month, we aim to support at least one small business run by women in our boxes, so your subscription not only means that you get to celebrate your inner fangirl, it also means that you're supporting other women who are out there doing awesome things!!!
You can enter my unique code and find out more about the service at MyFanMail.com! Note: The last day to order the November box "War Among the Stars" is this Sunday, November 15th (tomorrow!) but you'll be able to use the code for your first box regardless of when you order.
I can't wait to see what's inside!
---
~Did you enjoy what you read here and appreciate it was ad free? Please consider supporting the site through Patreon!~