The Nerdy Bird Recommends – Jekyll
What would you do if you realized another person was sharing your body? Would you check yourself into an insane asylum thinking you were going mad or would you devise a schedule that works for both of you and hire an assistant to keep your appointments straight? That's just the tip of the iceberg for the captivating and thrilling British series,
Jekyll
.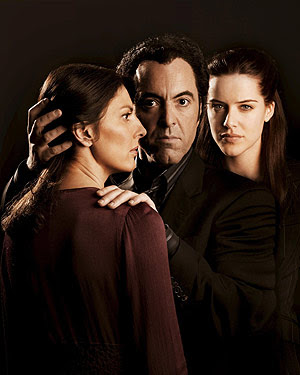 God damn it, those Brits know good TV! Robert Louis Stevenson's "Strange Case of Dr. Jekyll and Mr. Hyde" has been tinkered with and retold numerous times since it was published in 1886 but never, I repeat, never like this. Jekyll has actually been described as a sequel of sorts to the original work. 
The series, set in modern times, shows that Dr. Tom Jackman has gone to great lengths to keep his other half in check while preventing his wife and two kids from finding out Daddy's little secret. Digital recorders, GPS and numbered condoms help with that. He doesn't know why this is happening to him and neither do we, at first. Unfortunately a secret organization does. They've known about him for over 100 years and have big plans for his future. (
View the trailer
)
I realize I'm a bit behind the times on this one. Occasionally I'll get wind of some "amazing" show I just "have to" watch. Seeing as how that's the quickest way to turn me off I usually pick them up much later. (Ex. Battlestar Galactica, Spaced) Jekyll's six episodes first aired in 2007 on the BBC and later on BBC America. It was written by Steven Moffat, (Coupling, Doctor Who) who I'm convinced, sweats genius. 
The true spark that ignites Jekyll into something extraordinary is it's star James Nesbitt, who was nominated for a Golden Globe for his role as both Jackman and Hyde. The transformation between characters is subtle – darker hair and eyes, different hairline, taller, yet Nesbitt might as well be two separate actors. Jackman is nothing special, underwhelming even whereas Hyde is ferocious, insatiable and violent, yet as precocious as a child. His deftness at making each someone you want to know, mixed with Moffat's script make for an unforgettable experience. Did I mention he makes Jackman and Hyde sexy as hell? I'm aware, I'm a strange girl.
Michelle Ryan
(Bionic Woman) stars as his more-than-meets-the-eye assistant but it's
Gina Bellman
(Coupling, Leverage) who really surprises as Jackman's wife Claire. She makes just as much a progression through the series as does poor Jackman who loses more and more of himself along the way. The lines begin to blur for everyone as the story escalates to the point of no return. And no, there has not been a second series. It's an amazing succinct story all it's own.
So, if you need a fix for something dark, brutal and unforgiving after BSG ends this week or if you need something entertaining to hold you over until Doctor Who comes back, I highly recommend you rent Jekyll on DVD. At six episodes it won't last you very long but it's got everything – science, mystery, horror, psychology, sci-fi, conspiracy, even shrewd wit. Don't believe me? How about this?
Mr. Hyde: Ever killed anyone, Benjamin?
Benjamin: Not personally. I have people.
Mr. Hyde: You're missing out. It's like sex. Only there's a winner.
I suggest watching it in a dark room, late at night.