Nerdy News
Ok, so this first one isn't so much news as it is eye candy. Because I know this will offend you all deeply, I apologize in advance…
"Is providing you with the sexiest photos ever the best way to send off a series that transformed geek to chic? Yes, and so say we all," says Maxim Magazine. Battlestar Galactica's Tricia Helfer and Grace Park cover Maxim's November issue with their lengthy torsos and shirts from Baby Gap.
The issue hits stands October 20th and the gals were included to promote the new Battlestar movie, The Plan, which comes out October 27th. "There will certainly be a lot more explicit action on the DVD," Helfer told Maxim, "And I refuse to have a body double, so you will see a little bit of skin from me as the Six character." Park chimed in, "Yeah, there's going to be a T & A version. Though maybe I should say T, C & A, because it's not just girls this time."
Although Maxim fails for using the phrase, "Set
phasers
to sexy," do yourself a favor and click on over to
their site
to see more pictures and *gasp* a behind-the-scenes video of the photo-shoot. Park also fails for being entirely too skinny. Boomer, I miss you.
_________________________________________________________
I don't play World of Warcraft but I think it's going to make a great movie. Especially with this talent involved.
Saving Private Ryan
scribe
Robert Rodat
will be writing the script for
Warcraft
, the upcoming live-action videogame adaptation which Sam Raimi is directing. "The plan is for Raimi to supervise development of 'Warcraft' and shoot the picture after he completes work on 'Spider-Man 4,' which gets under way early next year for Columbia Pictures,"
reports Variety
.
The game's publisher Blizzard Entertainment, Legendary Pictures and Warner Bros. are all involved in the films production.
_________________________________________________________
Finally, sad news for the majority of Marvel fans. Jon Favreau has
officially announced
he won't be directing the Avengers film.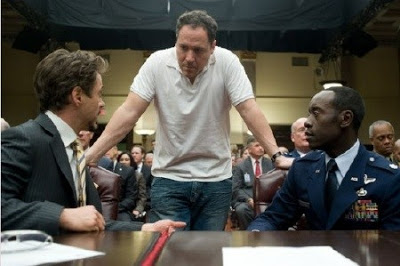 Favreau told MTV, "I'm not going to be available," during an interview for his latest film
Couples Retreat
. "It's going to be hard, because I was so involved in creating the world of Iron Man and Iron Man is very much a tech-based hero, and then with 'Avengers' you're going to be introducing some supernatural aspects because of Thor," he continued. "How you mix the two of those works very well in the comic books, but it's going to take a lot of thoughtfulness to make that all work and not blow the reality that we've created."
He said having people like Kevin Feige from Marvel on board was good for the films, "You need somebody who has the perspective of all the different franchises to bring them together. I have the myopic vision of just knowing and loving Iron Man." He did, however, say he'd be acting as executive producer and have a lot of involvement. Better than nothing, right?