Nerdy News
In this edition of Nerdy News a ghost gets another finger, we realize geeks will do anything for a hot girl, find out the perks of being a director's wife and a movie poster gives me dirty thoughts. Intrigued? Read on.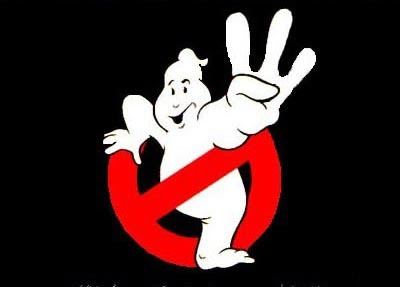 According to Dan Aykroyd and reported by the LA Times, the long-talked about third Ghostbusters film is finally moving forward. The entire team, plus Sigourney Weaver, are set to reprise their roles. Aykroyd pointed out that Bill Murray had previously been the holdout but the situation was more nuanced than the public knew. "Now we're at a point that there's a story that he can accept and that's going to work, and I think we're going to be in production fairly soon. We could be in production by winter," he said.
Writers of the upcoming Year One, Lee Eisenberg and Gene Stupnitsky, have penned the script but no director has been established as of yet. Details of the script itself are still sketchy but Aykroyd hopes there will be a new team with some female members, "I'd like it to be a passing-of-the-torch movie. Let's revisit the old characters briefly and happily and have them there as family but let's pass it on to a new generation," he said. And who would he like to see in those female roles? He suggested Eliza Dushku and Alyssa Milano, who we learned not too long ago, was going to be voicing one of the characters in the Ghostbusters video game. 
_________________________________________________________
One thing to remember – even when the economy sucks, geeks will always pay good money for something that touched the skin of a hot woman. One fanboy is sleeping soundly tonight.
Starbuck's flight suit went for $16,500 while Sharon's flight suit took in a measly $13,000. It's not just stuff the hot girls wore mind you, anything they touched turned to gold. "Another item estimated to sell for less than $1,000, 'Kara's Bizarre Painting on Canvas,' went for $15,000," said SciFi Wire. Don't feel bad for the guys though, their stuff went for big bucks too.
_________________________________________________________
The actress who has all of four credits to her name (one uncredited mind you) said, "We're still in the casting process so I really can't talk about who I'm playing yet." Wait, wait, it gets better. "In the comic book, he is a regular guy who is a little bit afraid of his dad's shadow, and so he is piloting a jet plane [to prove himself]," Romero said. "But then he gets involved with this Green Lantern and is protecting the Earth, so he dies and becomes the next Green Lantern."
Don't worry though, according to Romero Green Lantern is gonna be great, "But I personally think the movie is going to be bigger than any other comic movies, like Spider-Man." I'm sure that her husband is the director has nothing to do with it.
_________________________________________________________
And finally, just because I can, the first official teaser poster for New Moon. If Edward would just reach back and hold hands with Jacob…
Pattinson also spoke about his role in New Moon which has been increased considerably. "You're playing a figment in Bella's imagination so I was trying to do it in a 2-D way. I hope it doesn't translate onscreen as being boring," he said, laughing. Hey, at least he's aware.