Nerdy News – Casting Couch
Wowza, this has been an interesting week for casting news. One is inspired, another is freaking brilliant and yet another leaves me scratching my head. Hollywood, you so crazy! I'm still waiting for my call…
Ok so this first one isn't so much casting as it is someone just getting a job on a superhero movie but still, it's very cool news. Latino Review posted an exclusive yesterday suggesting David Goyer would be writing the script for the next Superman film titled, The Man of Steel. They say neither actor Brandon Routh or director Bryan Singer would play any part in the new movie. "I can tell you that Goyer's story involves Luthor and Brainiac. It is NOT an origin and assumes audiences already know about Lois, Clark, Jimmy and Perry. I know the Daily Planet is struggling due to the internet. And I know it sets up a huge Kryptonian mythology," said the reporter.
Yah! right? Well, now there are conflicting reports. Aint It Cool says Legendary Pictures vehemently denies the Latino Review story. The Hollywood Reporter is staying somewhere inbetween saying, "No dealmaking has taken place; only meetings are happening at this stage. Reps for Warners and Goyer had no comment." So maybe he will, maybe he won't but hopefully he'll be involved in some way. A good sign pointing to yes is his past work with Batman savior Christopher Nolan who, it was reported earlier in the month, would be a mentor on the next Superman film.
_________________________________________________________
Does Jim from The Office scream Captain America to you? Frankly, I'm a little appalled and I don't even read Marvel comics.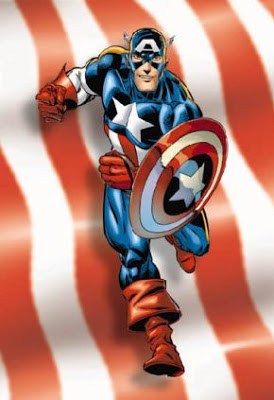 This week a short-list of actors was released to take the title role in the upcoming Captain America film. Marvel is conducting screentests this week and the candidates are as follows: Michael Cassidy from Smallville, Patrick Flueger from The 4400, Scott Porter from Caprica, Wilson Bethel from…The Young and the Restless, Mike Vogel from Cloverfield and yes, John Krasinski from The Office. I don't quite see him making that jump. Chase Crawford, Garrett Hedlund and Jensen Ackles are apparently also still in talks. "The studio has put the actors on 30-day holds during the testing process," according to THR.
They are casting very young and are sticking with only Americans from the looks of things. "So far, no British or Australian actors have been seriously considered though the search could widen if no suitable candidates are found." I'm still holding out for my hero. but I guess it's a good idea to skew young considering whoever lands the role is going to be signing the rest of their life away. Deadline Hollwood said, "whoever gets the role will have to sign for another nine options for future films that include sequels, Avengers movies, or anything else Marvel decides."
_________________________________________________________
Speaking of Captains, Captain Jack Sparrow is about to get another insanely perfect pirate to joust with. Ian McShane is in negotiations to play the notorious Blackbeard in Pirates of the Caribbean: On Stranger Tides.
Just look at him! I'm giddy over here. "McShane will join Johnny Depp, reprising his role of Captain Jack Sparrow, and Penelope Cruz, Sparrow's foil and equal in many ways, in a tale that revolves around the Fountain of Youth," says THR. The fourth installment of the Pirate franchise is set to open May 20, 2011.