Nerdy News
The heroes in a half-shell are back in live-action says Variety. Not only that, we're getting their origin story. Turtle power!
The Mirage Group is moving forward with a new film they hope to release in 2011. "Legendary Pictures former chief marketing officer Scott Mednick is producing the new pic alongside Galen Walker, who produced the 2007 computer-animated "TMNT" pic, the most recent installment in the franchise," reported Variety. Peter Laird, one of the original creators, will be executive producing.
"The original dozen comics created by Peter Laird and Kevin Eastman are some of the best source material one could hope for," said Mednick. Laird added, "the pic may employ face replacement technology, which would allow the turtles to be much more expressive."
TMNT's 25 anniversary celebration kicks off today in New York. The first film will be shown at the Tribeca Film Festival and look out for the Empire State Building – tonight it will be "turtle green."
_________________________________________________________
Twitter has really become the best new source for fun news. Apparently this was let slip a few months back but I just learned that none other than Stephen Fry will be voicing the Cheshire Cat in Tim Burton's Alice In Wonderland.

Fry wrote on his Twitter account today, "Playing Cheshire Cat. Smug, complacent, cheese-eating grin – moi? Walking off to studio in next ten minutes." He certainly rounds out some of the best casting I've seen in years. Johnny Depp as the Mad Hatter, Helena Bonham-Cart as the Red Queen, Anne Hathaway as the White Queen, Alan Rickman as the Catapillar and Christopher Lee as the Jabberwock.
In other cool Wonderland news, the film is set to be released in IMAX 3-D. "This is going to be an eye-popping cinematic experience as Tim takes moviegoers down the rabbit hole and into the dimensional world filled with incredible characters, sly humor, and wild adventures," said Mark Zoradi, President of Walt Disney Studios Motion Picture Group.
_________________________________________________________
I know, there's been a lot of Twilight related news the last few weeks and I apologize to those of you who couldn't give a shit, but I do, so deal with it.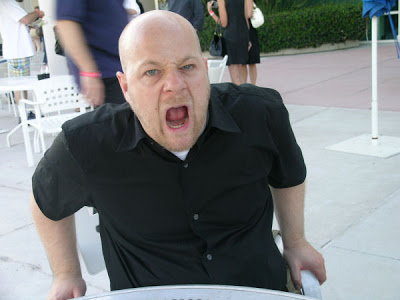 It was just announced, 30 Days of Night director David Slade will be directing the third Twilight film, Eclipse. "Summit Entertainment has just signed Slade to the project, which it plans to release June 30, 2010," says The Hollywood Reporter.
"Stephenie Meyer's 'Eclipse' is a muscular, rich, vivid book, and we at Summit looked long and hard for a director who could do it justice. We believe we have found that talent in David Slade, a director who has been able to create complex, visually arresting worlds," said Summit president of production Erik Feig. Stephenie Meyer said she's thrilled to have Slade directing the third film, "He's a visionary filmmaker who has so much to offer this franchise."
And no, this is not beefcake for beefcakes sake. USA Today got the first shot of the Wolf Pack from New Moon. The all Native American crew of Chaske Spencer, Alex Meraz, Kiowa Gordon and Bronson Pelletier join Taylor Lautner who returns as Jacob in the film.
They've been dressed that way for most of the filming in chilly Vancouver. I'm sure it helped in the temper aspect of the role. Looks like they've given the pack tattoos as a sign of their solidarity, which is kind of odd. But I'm not complaining…especially not about the one on the left…