New Torchwood trailer and poster!
Over the weekend, Starz released some new material from the forthcoming
Torchwood: Miracle Day
. Here's my handsome man ready to kick some you-know-what…
The new season not only takes place in America but features new cast members Bill Pullman, Mekhi Phifer and Alexa Havins joining originals John Barrowman and Eve Myles. Unfortunately, none of the actors are in the teaser but it's exciting none-the-less. (You can view the trailer on Starz's website)
Miracle Day centers around a day where no one on Earth dies. But when the "epidemic" continues, situations become critical on the planet with resources becoming scarce for the quickly growing population. Phifer plays a CIA agent trying to get to the bottom of it when he stumbles across our favorite secret agency, Torchwood.
Torchwood: Miracle Day premieres on Starz, July 8.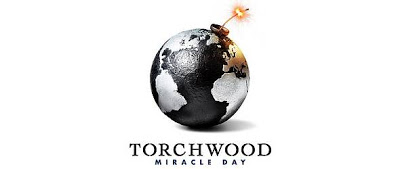 UPDATE:
Deadline.com
has some fun info about the new season via Mr. Barrowman.
"There is so much more we can do with Torchwood now having made the leap to America. It's going to be even bigger and better," said Barrowman, "And," he added with a chuckle, "for me on a personal level the move to America has been fucking amazing." The budgets are bigger, the stunts are more dangerous and the sexual chemistry is more explosive, he said, pointing to the opening scene in Season 4, which involves a helicopter. "If we were in Wales shooting, we might not have had that, or we would have had to re-write the sequence." Overall, "the audience is going to need a forklift truck to pick their jaws off the ground. The stunt work is unbelievable. I used to do quite a lot of stunts except if it was jumping off of buildings but now I'm not allowed to because of the insurance policy. I'm much more valuable in America!"
The article also mentions Captain Jack Harkness gets a redesigned coat this season with, "a lighter weight material and a 'slimmer cut.' According to Barrowman, the former was to account for LA's hotter weather, while the latter was the decision of the designer, not him."
Deadline also wrote, "According to Barrowman, all but the 10th episode have been written by Russell T. Davies, who is in LA now working on the final script." The jump to the U.S. location and cable network means a greater exposure for the fan-favorite show. "We've going to be bigger than cult, now it's about world domination," said Barrowman.