No Ra's Al Ghul Resurrection In 'The Dark Knight Rises,' Says Liam Neeson
From the moment Ra's al Ghul was set as a character in
Batman Begins
, fans speculated it was only a matter of time before Christopher Nolan decided to play up the resurrection aspect of the villain — a conclusion made easier when the character, played by actor Liam Neeson, apparently died at the end of the film.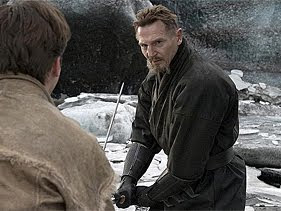 Now, with the third, and reportedly last, installment in Nolan's Batman films The Dark Knight Rises set to start shooting in a few months, fans are wondering when the revelation of Neeson's return will be announced.
Well, brace yourselves — because the actor says it isn't going to happen.