Once Upon A Time…
Fans first discovered The Tales of Beedle the Bard in the pages of J.K. Rowling's Harry Potter and the Deathly Hallows, the seventh and final book of her life-changing series. In the book, TBTB is a collection of Wizarding fairy tales given to Hermione from Dumbledore as a means to unravel a vital mystery. Only one of the five tales is described in detail and plays heavily into the Harry Potter mythos. No more was heard of the tales, that is, until Rowling took it upon herself to complete the fictitious book in secret producing only seven handwritten and illustrated copies to be gifted to individuals unknown. One of those lucky seven has since been revealed as Harry Potter co-editor Arthur Levine from Scholastic.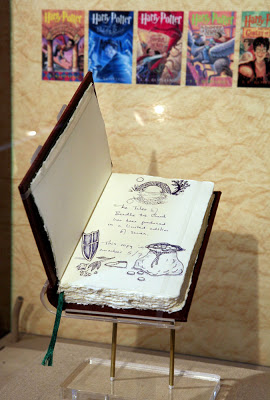 "The magic isn't glass slippers, it's wands and spells," Levine explained enthusiastically at the unveiling of his copy at the New York Public Library yesterday morning. His book will be on display for all to see at the library's Humanities and Social Sciences Library at Fifth Avenue and 42nd Street now through January 4, 2009. It seemed almost inevitable the book would have to be published for the public to own a copy for themselves and indeed, TBTB is available in-stores and online internationally today.
As you may recall, last year Rowling presented the Children's High Level Group, a charity she co-founded, with the last of her seven copies knowing it would be auctioned off to their benefit. It was a highly publicized event at Sotheby's that resulted in online seller Amazon purchasing the original for almost $4 million. "Out of that came the plan, well wouldn't it be nice as a way to raise further funds for the charity, to distribute it in a wide way," said Levine. The net proceeds of the standard edition, UK edition and Amazon's exclusive collectors edition will go to supporting the work of the charity.
Even though TBTB has been locked up just as tight as the Harry Potter series before it's release date, no fan will be left empty-handed today and besides racing through the fairy tales and soaking in another part of HP history, what most of them want is to catch a glimpse of this now infamous copy. Everyone at Scholastic agreed the NY Public Library was a natural temporary home for the book. "Especially this branch of the NY Public Library which is such a castle," marveled Levine, "You know, the castle in the Kingdom of Books." Only one page is visible to the public but a video playing nearby showcases several other interiors.
Though he was brave enough to loan his prized copy to the library, Levine offered sketchy details as to it's usual home. "I kept it in an undisclosed location in a safety deposit box in a bank. Buried underground," he joked. It's no wonder he's so tight-lipped on the subject, besides the charity, only one other individual presented with a copy has been disclosed. Barry Cunningham, Rowling's very first editor, is the lucky recipient and his is on display in Edinburgh at the National Library of Scotland.
However, each copy is slightly different. Rowling had each set with a different semiprecious stone. The charity's version was encrusted with Moonstones on the cover but Levine's holds Tourmaline. "I think the jewel in my book is there because it's my son's birthstone," he said. To him, that's just the kind of person J.K. Rowling is, "You can imagine from reading her books what a mind for detail she has and that applies in her personal relationships too."
Besides loving anything Potter, why are fans so enthusiastic about this new release? Part of the story behind The Tales of Beedle the Bard is that it's been translated from ancient runes by Hermione who's also uncovered Dumbledore's personal conclusions and theories on the subject. So, in the real life book Levine explains, "[Dumbledore] comments on the stories and what he thinks they mean and how they've been interpreted and gives a wonderful wizarding historical background and then occasionally she, J.K. Rowling, comments on Dumbledore's notes, commenting on the stories." A story, within a tale, wrapped in a fictional world. Impressive.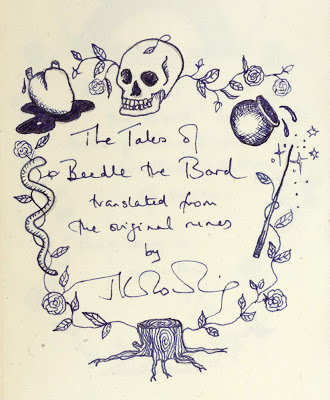 What makes a memorable fairy tale? Definitely a sense of suspense and wanting to know what fate will meet the subject of the story. Arthur Levine thinks TBTB fits perfectly, "You don't know what will happen next but then at the end you also have the feeling of, you know, that kind of uplifting feeling that the tale has meant something." The Harry Potter series has meant something to millions around the world. There's no doubt this latest addition to that world will do just the same.