One, two Haley's comin' for you.
Jackie Earle Haley sure likes his fedoras. He's picking up the Freddy Krueger mantle with New Line Cinemas remake of A Nightmare on Elm Street.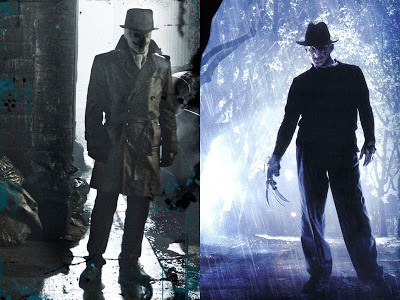 The Hollywood Reporter broke the news and said filming would begin May 5 in Chicago. Director Samuel Bayer had this to say of the actor:
"Looking at his performance in 'Watchmen,' here's a guy playing a character under a mask yet you feel tremendous empathy for him," said Bayer of the actor. "And in Nightmare,' he is going to be under prosthetic make-up. You have to feel something for the character. The greatest villains are multi-dimensional and I think he will bring that to the character."
Bloody Disgusting also reported The Haunting in Connecticut star Kyle Gallner will be playing Quentin in the film (a modern version of Johnny Depp's character) which is set to be released April 16, 2010. Haley was apparently on a, no pun intended, shorlist of actors to play Freddy. "It's what you bring to the material. He's a well-rounded actor who will not be stereotyped by this. If anything, he'll be celebrated for it," said Bayer.
I'm gonna go out on a limb here and say he's being just a bit stereotyped but I also think he's a superb choice. Not that I think a Nightmare remake needs to be made at all but, you know. What do you think? Wouldn't it have been poetic justice to see Depp play Freddy?