P-Brane: The Green Man
They say you shouldn't judge a book by it's cover. Does that go for graphic novels too? In the case of
P-Brane: The Green Man
, no. Go ahead and judge it by it's cover, just don't judge it by the first eight chapters.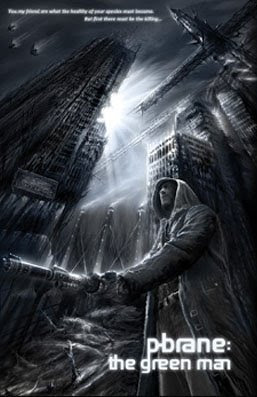 P-Brane starts by following a character we later come to know as Casey Blade. He's on the streets of New York with no idea who or where he is but with the inherent knowledge of one thing – violence. After defending himself from an attack, with what appears to be super human speed and strength, he's befriended by a homeless man who's actually an undercover reporter named Jack Russell. Jack can tell he's special, he's got green-toned skin, and wants to tell his story. There's a lot to tell but Casey doesn't know the half of it. Yet.
In what's reminiscent of Wesley Gibson's eventual blood-lust in Wanted, Casey starts with pedophiles but climbs the bad-guy ladder until he's able to murder an Osama bin Laden-esque terrorist leader. He even gets the U.S. government to pay him for his work. Along the way he's developed new skills without even trying. He tells Jack he learns in his dreams – martial arts, new languages, you name it. Jack attempts to find some rational explanation for it all like, The Matrix and  "Did you ever see that movie 'The Bourne Identity?' " he says. It's not until Casey offers him and Crystal Pod implants at the back of their necks allowing them to communicate telepathically that you realize there might be a bigger plan at work than just simple vigilanteism. That would be Chapter Nine.
So how exactly does a graphic novel get from there to an apocalyptic sci-fi story that's one part Contact, one part Independence Day? Awkwardly, that's how. Casey eventually finds other Green men and women spanning the globe on their own quest for vengeance. Thirteen from all walks of life come together to organize their power and realize Casey is a step above the rest. He's built a black box in his house that leads him to a meeting with an alien known as the Host. 
The Host is with U.P.S. – that's United Preservation of Systems. "Universal branding is a problem," he admits. Turns out, Earth is on the galaxy's shit-list. U.P.S. believes we are very close to discovering inter-stellar travel but mentally (morally), we aren't ready for it. Casey and the other genetically enhanced Green-people are that way because of the aliens intervention. Earth is on a three year probationary period now, if they can manage to purge the world of "genetic defects"  and enhance everyone else we can bask in the membership of U.P.S. If they fail, humans will be exterminated for the good of the universe. No pressure guys!
As you'd guess, things don't go smoothly. Casey, joined by fellow Greens Anna Lyse and Ali splinter from the rest of the group and fight for as long as they can before the exterminators come to Earth. By now it's all-out star wars – space ships, wormholes and all. Casey's come a long way from pedophiles and mobsters yet he still finds time to gamble big, literally, with a d1000. For those not versed in Dungeons & Dragons, that's a thousand sided die but there's a lot more destruction and intrigue involved in the fairly short war.
P-Brane is a very unique brand of sci-fi adventure that will absolutely have you wondering what will happen next. The 221 page story works well in graphic novel form considering a person picking up "Chapter One" might mistake it for something else entirely. It creates it's own world successfully without delving too much into details or backstory. Hopefully that's what's in store for Book II. Is P-Brane: The Green Man worth picking up? That's for you to judge.