The Predator, Alien: Covenant, and Star Wars' Han Solo Film All Release Cast Photos
The Predator, Alien: Covenant, and Lucasfilm's Star Wars spinoff featuring Han Solo all got cast photos today. Let's take a look, shall we?
Above is the one from Ridley Scott's Alien: Covenant, the follow up to Prometheus. There's some new faces here but the first thought I had was: "The Weyland Corporation should have some meetings on workplace diversity." From left to right (I think) we've got – Katherine Waterston, Amy Seimetz, Tess Haubrich, Alexander England, Nathaniel Dean, Demián Bichir, James Franco, Danny McBride, Uli Latukefu, Benjamin Rigby, Callie Hernandez, Jussie Smollett, Carmen Ejogo, Billy Crudup, and Michael Fassbender. We'll see who dies first on May 19.
We already knew production had begun on the Han Solo Star Wars spinoff but StarWars.com released this image of (some of) the cast today as well as a few new bits. My first thought on this one was, "Donald Glover just wants everyone to move over so he can fly the ship." But my second thought was, "Where is Thandie Newton???"
They confirmed Newton's casting in the post but are still keeping her and Emilia Clarke's roles a secret:
Phil Lord and Christopher Miller are directors co-piloting the movie, with a cast that includes Alden Ehrenreich as Han Solo, Woody Harrelson, Emilia Clarke, Donald Glover as Lando Calrissian, Thandie Newton, and Phoebe Waller-Bridge, with Joonas Suotamo as Chewbacca.
They add: "The untitled Han Solo Star Wars Story is slated for release on May 25, 2018." Interesting they're shooting for a May release instead of keeping the holiday season thing going
Finally, director Shane Black shared this partial cast photo of The Predator on Twitter. Here we have Sterling K. Brown, Trevante Rhodes, Boyd Holbrook, Olivia Munn, Keegan-Michael Key, and that's Room's Jacob Tremblay in front with Black.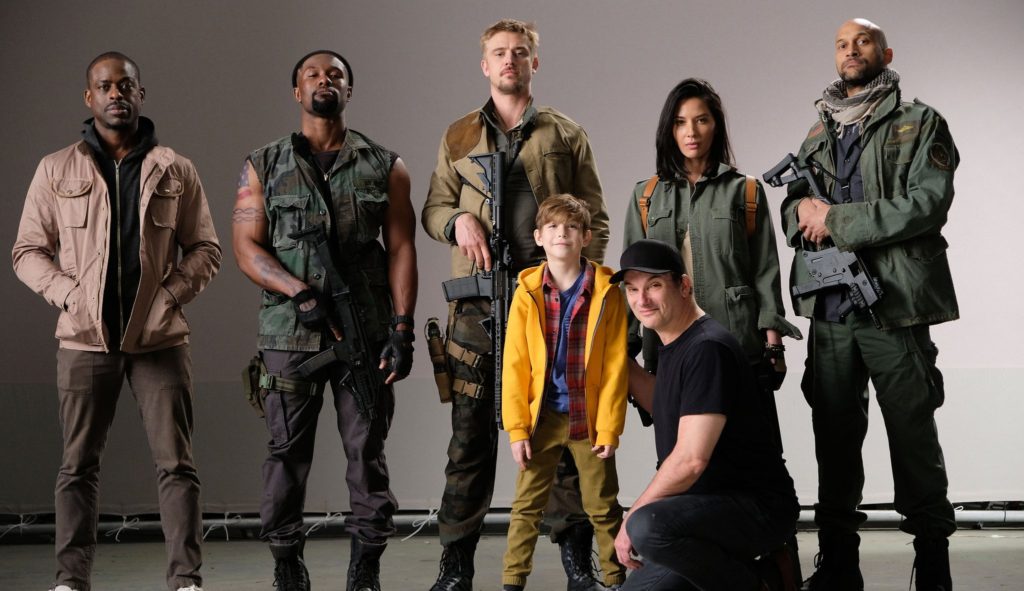 A couple of days ago he addressed the film's rating tweeting, "And, just to be clear… PG-13 is for pussies. Spines bleed… a lot." This one is set for a February 9, 2018 release.
[UPDATE] The Hollywood Reporter just revealed Game of Thrones actor Alfie Allen has just been cast in The Predator. He'll play an ex-Marine.