Greg Rucka & Liam Sharp's Wonder Woman Preview Features Minotaur Wrangling
You all know I haven't read comics in a while but DC made the wise decision to get Greg Rucka back on Wonder Woman for "Rebirth." Not that I needed convincing but after this preview I'm definitely sold.
From DCComics.com:
After suffering an unimaginable loss, Wonder Woman must rebuild her mission as Earth's ultimate protector and champion. DON'T MISS: New York Times best-selling writer Greg Rucka returns to Wonder Woman with a tale that will forever alter the DC icon.

Art by: Liam Sharp, Paulo Siqueira
Variant cover by: Stanley "Artgerm" Lau
Written by: Greg Rucka
U.S. Price: 2.99
On Sale Date: Jun 8 2016
Here's your first look at the interiors.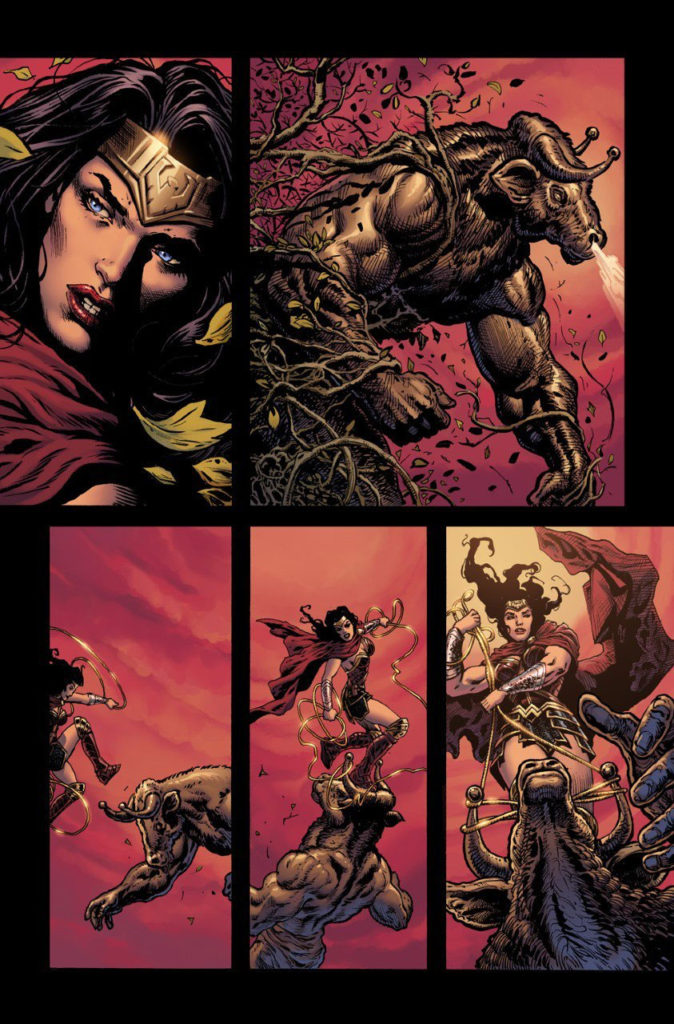 FUCK YEAH, MINOTAUR!!!!
Rucka's previous Wonder Woman run was one of the first chunks of the DC Universe I consumed years ago. I loved it not just for the main character but because she got to actually fight mythological creatures. [Editor's Note: affiliate link] Check out trade paperbacks of that run on Amazon!
Rucka took to Twitter to give a few more details…
So the #DCRebirth #WonderWoman art colored by Laura Martin and drawn by @LiamRSharp is from the Rebirth issue, not WW 01. FYI.

— Greg Rucka (@ruckawriter) May 2, 2016
Laura is coloring @LiamRSharp on the book. We're being cagey about @NicolaScottArt for the time being. #soon

— Greg Rucka (@ruckawriter) May 2, 2016
@MartGray @LiamRSharp The cape is for that scene, specifically. Formal attire.

— Greg Rucka (@ruckawriter) May 3, 2016
@LucasRemoussin @LiamRSharp @NicolaScottArt Not at all. Laura is unparalleled IMHO. We are VERY fortunate to work with her.

— Greg Rucka (@ruckawriter) May 3, 2016
And sharp posted the magnificent black and whites.
Here are the black and white versions! :-) #DCRebirth #WonderWoman @ruckawriter pic.twitter.com/OdYIx6ovcB

— Liam Sharp (@LiamRSharp) May 3, 2016
The book will be publishing twice a month for six months to start. And if you were wondering how Nicola Scott fits in, my pal Susana Polo writes at Polygon:
Every other issue of Rucka's run will form an arc called "Lies," set in the modern DC universe, drawn by Liam Sharp. The others will function as (if not explicitly be called) Wonder Woman: Year One, a traditional naming convention/story construction for DC — but the first time it will be applied to this character. Rucka told the audience at WonderCon that this arc, which Scott will be drawing, has been a dream project for the two creators for years.
After Rebirth the even numbered issues are Diana's Year One story. Greg and I are taking her back to the beginning. https://t.co/vI0yGrTFJZ

— Nicola Scott (@NicolaScottArt) March 31, 2016
Time to get that pre-order in! #WonderWoman @ruckawriter @NicolaScottArt :-D pic.twitter.com/s5kTEb7Dok

— Liam Sharp (@LiamRSharp) April 16, 2016
Indeed. Make sure to pre-order this one from your local comic shop.
(via ComicBookResources)