SDCC Sketches!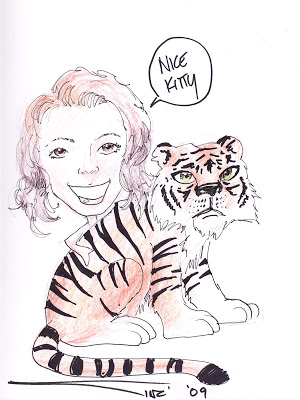 Colorist on Blackest Night, Batman & Robin and numerous other books, Alex Sinclair was the first artist I sought out in San Diego. He told me he used to make money doing caricatures at a zoo and sure enough, I got my very own! How awesome is my hair? That's exactly how it looks.
Sure, Dennis Calero works for Marvel, but I won't hold that against him. :) He was a really nice guy and broke down my portrait into the bare essentials. What more do you need to know really?
I waited patiently for Aaron Lopresti to open up during the last hour of the show on Thursday. I love his work on Wonder Woman and knew he would do a beautiful sketch of me. Little did I know it would be this beautiful! Or maybe I should have considering I sat for him for a little over a half-hour. He started out drawing with me not smiling so it became a bit of a challenge (not to mention a joke) to keep me from smiling. It got even harder when a blog reader started chatting with me and wanted a picture. I honestly felt like the Mona Lisa during this one.
Mr. Lopresti said he wished he'd had more time when all was said and done but honestly I was blown away by his depiction of me. The funny part is, once I got it home my oldest brother told me it looked like our mother from the 1960s. We found a picture.
What do you think
?
I met a new friend at SDCC. His name is David LeVack. He's the writer of
Aeroine
and the Editor at
Quarterstone Comics
. He thought he could do a better job drawing me so I let him give it a shot. Why am I holding a joystick? I have no idea but it amuses me.
I love Freddy Williams work on Robin and it was announced during the show he'd be stepping up to work on the new JSA All-Stars series with Matthew Sturges. He didn't think he was good at caricatures so instead I had him draw me Power Girl. Looks like she's ready to kick some ass.
At David's suggestion I got a sketch from another Marvel artist, Brandon Peterson. He had a wicked cool sketchbook. I think I'd like to get him to draw a full-body version of me someday.
I started with a Green Lantern associate and I ended with one. I think Patrick Gleason's work on Green Lantern Corps has been consistent and amazing. His Soranik Natu is adorable so I was curious how he'd interpret me to his style. I think it's pretty damn cute.
And thus end the great sketches of SDCC 2009!