Shower Nerdy
Whoever said geeks were a dirty, smelly bunch are about to eat their words. Or maybe eat soap. You know how bitter those geeks can be after years of teasing.
User
DigitalSoaps
from the craft site,
Etsy.com
, has made our collective dreams come true by combining two awesome things – showers and video games. Soap…shaped like video game controllers. Who would have thought of such a thing? A lady named Chrystal Doucette, that's who. She's the creator of these nerdy cleansing apparatuses and is actually a mild-mannered reporter by day. You mean, like SUPERMAN?!? It's a match made in nerdy heaven!
"The soap bases I use are natural and vegan – No animal products, animal testing, detergents, sulfates or sugar solutions," she says on her Etsy homepage. Here are the list of ingredients:
· Coconut Oil
· Palm Oil
· Castor Oil
· Safflower Oil
· Glycerin (kosher, of vegetable origin)
· Purified Water
· Sodium Hydroxide (saponifying agent)
· Sorbitol (moisturizer)
· Sorbitan Oleate (emulsifier)
· Soy Bean Protein (conditioner)
· Titanium Dioxide (mineral whitener used in opaque soaps)
· Fragrance and color
Now these are just plain adorable. "An ode to one of the most recognizable games of all time: Pacman. This set includes renditions of 'Blinky,' 'Pinky,' 'Inky' and 'Clyde,' as well as, of course, Pacman." I totally want to eat them. Wakawakawakawaka…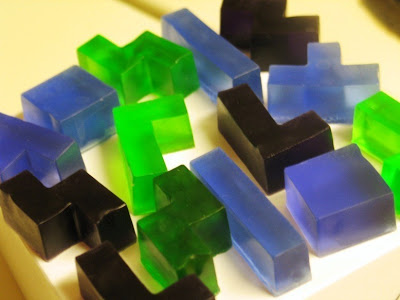 This set has to be my absolute favorite. I've always been a Tetris fiend. Talk about fun! I'd spend hours in the bath playing with these. And that's pretty much what Doucette expected, "For people with OCD like me, you might get some fulfillment from trying to make these Tetris pieces fit perfectly together before washing your hands of them….mwahahah. Inspired by level 3, with purple and green pieces."
DigitalSoaps doesn't just stop at cleaning your skin, they're aiming for head-to-toe. How about a nice bottle of
Mountain Dew scented shampoo
? Ok, maybe not but hello Holiday gifts! If none of the soaps are exactly right, you can also create a custom bar at
DigitalSoaps.net
with a variety of colors and scents. Being a geek never smelled so good.