So, it's like the lottery?
Who knew all you have to do to be a member of the Green Lantern Corps was, well, be around? At least that's what the new Warner Bros. Consumer Products promotional art would lead us to believe. From
/Film
, this is the first official logo to be seen for the Green Lantern live-action film.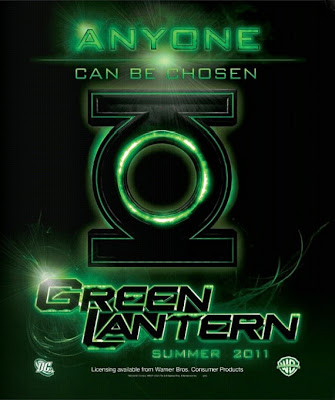 While this may look very much like a teaser poster for the June 2011 film it's actually something created for parties interesting in the licensing involved with the film. And you can guarantee there's going to be a lot of that. But the licensing isn't limited to Green Lantern.
Mattel is getting what an official press release calls, "unprecedented access to the complete breadth and scope of the DC Comics vault of characters." They'll be continuing lines based on Batman: The Brave and the Bold and DC Super Friends and are working on something involving Young Justice as well.
If you thought DC's Green Lantern toys/action figures were lacking before, you'll probably be drooling soon."The Green Lantern film has an incredibly wide merchandise appeal," said Donald De Line, producer of the movie. "The potential is there for amazing toys and merchandise because Green Lantern's ring can create anything the imagination can conjure. From space stations and vehicles to alien action figures, the possibilities are just endless." The press release said the new lines would be for both children and adult fans and that a film specific line called "Movie Masters" would be released along with Green Lantern in 2011.