Speaking of New Moon…
…three new movie posters have been released. I'm drooling over each of them for different reasons.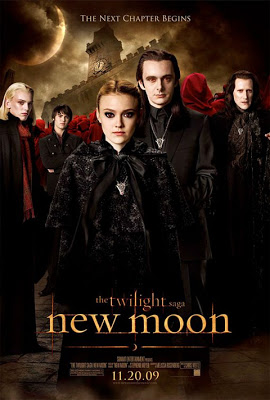 This first one of the Volturi because I love their style and I think Dakota Fanning looks appropriately menacing.
Robert Pattinson looks kind of disproportionate here but everyone else looks great, especially Jasper. I really think they did something to Rob's head here though. In fact, I think they manage to make him look bizarre in just about every promotional item they put together.
And this one of the wolf pack? Do I really need to tell you why I like it? It's totally the cool tattoos. What? You don't believe me? :) Taylor Lautner actually looks like he's about to crack a smile here. It's almost as if he's thinking, "Man, if this doesn't get me laid, I don't know what will!"
If October wasn't my favorite month I'd skip right over it to bring myself closer to November 20th.