Star Wars: Episode VIII Hires Web Series Comedic Actor Who Is Now the Envy of Us All
Star Wars has released its first official video from the production of the follow up to The Force Awakens, Episode VIII, and announced new cast Laura Dern, Benicio Del Toro, and web series star Kelly Marie Tran.
The brief video doesn't give too much away except perhaps that Episode VIII starts off exactly where The Force Awakens ended. Here's what StarWars.com had to say:
Star Wars: Episode VIII, which is written and directed by Rian Johnson and continues the storylines introduced in Star Wars: The Force Awakens, welcomes back cast members Mark Hamill, Carrie Fisher, Adam Driver, Daisy Ridley, John Boyega, Oscar Isaac, Lupita Nyong'o, Domhnall Gleeson, Anthony Daniels, Gwendoline Christie, and Andy Serkis. New cast members will include Academy Award winner Benicio Del Toro, Academy Award nominee Laura Dern, and talented newcomer Kelly Marie Tran.
Back in August of last year, Del Toro was confident a deal would be worked out for his rumored villainous role. Laura Dern, who recently picked up a still unnamed role in the Twin Peaks revival, is somewhat of a surprise but perhaps not more than Tran's casting. Want to know more about the Asian actor? Entertainment Weekly already posted a nice "who is she" piece but if you're a fan of online comedy videos her face may already be familiar to you.
[Edit: I made this GIF from Tran's work on an anti-smoking video that just works too perfectly in the Star Wars universe!]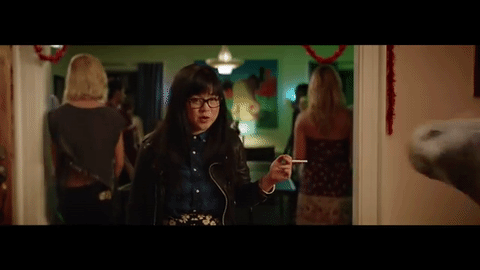 While it's still unknown who Tran would play, it's interesting they casted the comedy actor because we know rumors swirled last year about funny lady Gina Rodriguez possibly having a role in the film. Here was the Jane the Virgin actor's first reaction when asked about it.
Yeah. It was super "ohmygodsomeoneaskedmeaboutthatthingimnotsupposedtotalkabout." Could Tran have been up for the same role as Rodriguez? Perhaps but here's hoping they're still thinking of hiring Rodriguez too (though she's starting to pick up bigger film roles already). I think she'd make a great Sith.
Regardless, this is undoubtedly huge news for Tran and I'm happy to see both her and Del Toro add some more diversity to the cast. Star Wars: Episode VIII has a release date of December 15, 2017.