Strong enough for a man, but made for a woman.
I bought a Marvel comic book today. And I read it. I know, I know. Not only that, it was called Girl Comics. I am SO getting kicked out of the clubhouse for this one.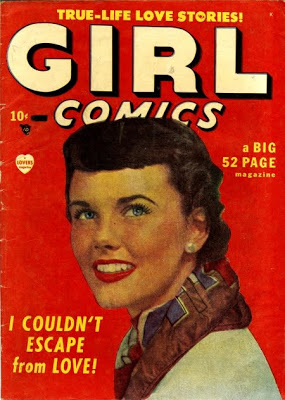 I jest but you all know I'm a DC fan through and through so this was a big deal for me. To be fair, I did purchase the Marvel Oz books last year so this was not my first Marvel purchase but my first Marvel superhero purchase. And guess what? I didn't like it…I loved it. I'll wait for you to pick yourself up off the floor before I continue.
Better? Ok, so when I first heard about Girl Comics I gagged. Seriously, it's still a horrible name. I get it, it's a comic for women, by women but I felt weird picking it up in the comic shop today in front of all the boys. It's like when you're walking down the feminine hygiene aisle at the super market and throw the first tampons you see into your cart because some guy was walking by. Surprisingly, Girl Comics turned out to be the Tampax Pearl of…girl comics.
Ok, I know I'm getting totally off track and I'm DEFINITELY getting kicked out of the clubhouse now that I've talked about tampons on my blog but I don't care. Girl Comics #1 was great. The best part about the series is it's an anthology. You couldn't have paid me to pick up Marvel Divas, not only because it sounded ridiculous to me but also because it was one story about characters I didn't really know to begin with. Marvel has done themselves and casual fans a great service by producing the book this way. Not only is it easy to jump into and understand, it's giving readers a look at some characters they might want to discover more about.
Contrary to what I had imagined though, Girl Comics isn't exactly an introduction to the Marvel Universe. Half the stories feature notable superheroes; Nightcrawler, Punisher (you'll lol at his dialogue), Cyclops and Jean Grey, while the other three focus more on, for lack of a better term, cute stuff. To my delight the two combined in one story,"Shop Doc" by Lucy Knisley, which featured Doctor Octopus shopping for cereal and was far and away my favorite segment of the book. Seriously, if you were wavering on picking this one up, do it for that short story.
Amanda Conner provided the cover to this first issue and the array of creators involved were, Colleen Coover, G. Willow Wilson, Ming Doyle, Trina Robbins, Stephanie Buscema, Valerie D'Orazio, Nikki Cook, Knisley, Robin Furth, Agnes Garbowska, Kristyn Ferretti, Devin Grayson and Emma Rios. Jill Thompson did the cover to issue #2 while Jo Chen finishes the series up with #3.
I really hope some guys were brave enough to pick up Girl Comics today. It's well worth it and not, as one would imagine, as embarrassing as going to the store to buy tampons for your sister. Sigh. I'll hand in my secret decoder ring at the door…