Tada, Tonner!
San Diego Comic-Con is notorious for showing you things you can't have. At least not yet. That's what I came to realize when I took my first trip there last year. I'd been hearing about those
light saber chopsticks
FOREVER and knew they'd be there with loads of other crap I didn't need but would be buying anyway. Turns out, they weren't for sale yet. Not even close, all you could do was look at them. And you wonder why I'm a Trekkie…
Anyway,
Tonner
always has a heavily trafficked booth on the show floor with their latest and greatest dolls out for collectors to get their hands on but I'll be honest, they've never really done much for me. That is, until now.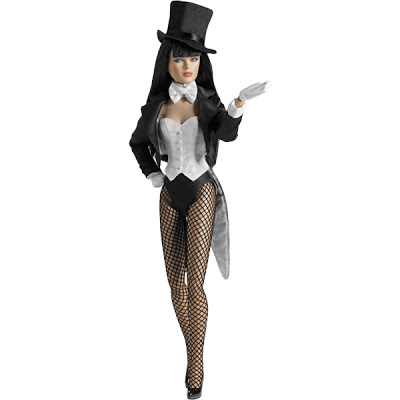 Exclusive from Action Figure XPress, it's a Zatanna Tonner Doll with possibly the cutest top hat you've ever seen. Though at $174.99 you can see why even if I found them appealing, I wouldn't be a collector. (This particular doll is not an SDCC exclusive, just exclusive to the company, who have a wicked Lion-O statue on their list of SDCC exclusives picked out for the show.) They've got an interesting description for her character, check it out:
Zatanna is a powerful sorceress whose abilities are apparently genetic. As a tribute to her father and as a focal point, she usually casts spells by speaking verbal commands backwards. She has also proven capable on many occasions of casting spells by speaking normally, and, in rarer occasions, the ability to use magic for simple tasks without speaking.
It kinda sounds like trying to describe comics to someone who doesn't read them. "So, she can do this…or so we think. And she does this, but not always, and sometimes she does it this way." Regardless, it's my Z, I think she's beautiful and if the company wants to send me one of the 300 they have I'll gladly accept it. :) This on the other hand…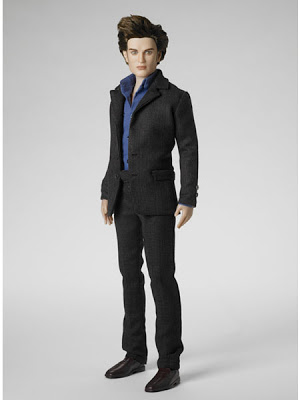 I've admitted to liking
Twilight
, it's my shameful-not-so-secret, but this is going to new heights. And I do mean that quite literally. LOOK HOW HIGH HIS HAIR IS STICKING UP! What's sad is they're not far off, it's probably like, to scale or something.