Torchwood Tickles New York
WARNING: The following article will be sprinkled with adult themes and language.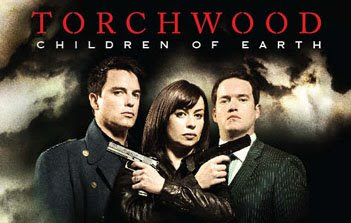 "WE ARE COMING," the tagline to the highly-anticipated third season of
Torchwood
, takes on an entirely new meaning after hearing star Eve Myles speak for an hour. If you're a fan of the show you know just how raunchy they can get on-screen, turns out, they're just as bad (good) in real life. During the Torchwood panel at the New York Comic Con pleasantries were exchanged, compliments were given and naughty secrets revealed. Let's just say Cardiff should prepare itself for a crowd of drunken Americans in the near future.
Director Euros Lyn (Doctor Who, "The Girl in the Fireplace") joined Myles for their first U.S. convention appearance at the panel moderated by Pop Candy writer, and fan, Whitney Matheson. Lyn directs all of Season 3 – the five-episode special titled, "Children of Earth." The exact date of it's airing is yet to be determined but look towards summer of this year. Lyn will also be directing David Tennant's last two installments as the Doctor. Compared to Doctor Who, he considers Torchwood very rooted, "[It's] a world that exists in the real world and that's definitely something we wanted to tell with 'Children of Earth.' It's a story that could happen to you and I." Not many details were given about the actual plot but Myles referred to it as "absolutely epic." See for yourself:
After last seasons downer of a finale, will we be seeing a less tragic Torchwood this year? Yes and no. "There's definitely a kind of lighter side to the characters because the theme of the story is so dark, that somewhere down the line you've got to get humor in there otherwise the dark stuff doesn't work," said Myles. She also says it helps to have humor on set and her favorite monster, the Weevil, plays a part in that. "It's very strange sitting and having a cup of tea with a Weevil," she said. Unfortunately he doesn't have a role in "Children of Earth," Myles thinks he was on vacation, "sunning it up in Barbados if I remember."
Another actor offered a different type of relief for Myles, who admitted Buffy the Vampire Slayer is her favorite American sci-fi tv show. James Marsters, who played Spike, had a guest-starring role last season on Torchwood as the
overtly sexual Captain John Hart
. "He was absolutely soooo good," gushed Myles. Her reaction while reading the script was typical of any fan, " 'And you're handcuffed to Captain John'…I'm WHAT?!…That is so fine by me." Marsters' character won't be back for Season 3 but Myles hopes they can get him back at some point, "If I was hiring and firing, I would be hiring."
Myles also spoke very highly of co-star John Barrowman. "John farts a lot," she revealed giggling like a school-girl, "Sorry John, but you do." A fan later asked her to describe the first time she met John. Here's what she had to say:
Myles played an important role in the Doctor Who episode, "The Quiet Dead," and we later learned her character on Torchwood is a direct descendant of that woman. As an actress, how did she get from one role to the next? "I think it was the phenominal hair style I had that got me the part of Gwen Cooper, and the doiley," she joked with a straight face, "I looked particularly hot." All kidding aside, she called it the biggest audition of her life. "I understand that Russell [T. Davies] wanted John and I to lead a program called Torchwood. And that's when I fainted and I didn't wake up for another month," she said. As for Gwen Cooper's relationship to the Rift, "It's her destiny to be there."
Stepping onto the set of Torchwood for the first time was daunting for the actress, who revealed she avoided the Hub as long as possible so her reaction would be genuine. "I tried to keep it to the very last moment from when Gwen walks in with her little pizza box…and she takes the entire place in," she said. Unfortunately that plan didn't work so well, "I had to leave the set cause I had a good 15 minutes of tears. I can't explain to you how overwhelming it was. All these people had worked so, so hard to create this new world, this fantastic incredible arena, this Hub." 
She quickly conquered her fears and now describes herself as "the proudest Welsh woman that's ever lived," and even offered to take the audience to the Hub if they visited Cardiff. "Not the Hub in Torchwood, the bar down the road," she said. Just a few minutes earlier, a fan had offered to get the panelists "fucked up" at a bar he works in. Myles was visably flushed by the language, "Woo! You New Yorker's are cheeky, cheeky!" she said, "I'm gonna give you my number," soon followed.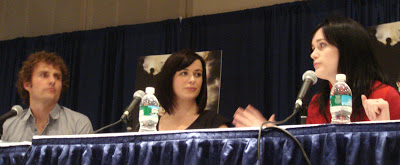 Now we all know Season 3 will be filled with action but Whitney Matheson (and everyone else) wanted to know what percentage of this season would be "action." Myles debated telling us who she kisses besides her fictional husband Rhys in the special, hinting at some extraterrestrial snogging. "There's lots of cheeky moments and I'm sure you'll aaaall enjoy it," she said. 
Seeing as how he's made the rounds, is there anyone Jack isn't going to kiss this season? "It goes from tables, to chairs. It's an amalgamation this year," Myles summed up. The two were involved with a BBC Radio 4 broadcast which left them in a small room together for a few days. "Obviously it's a radio studio so any kind of prop that was in there…" she trailed off teasingly but finished, "We had great fun, it was very professional."
Probably the most memorable hook-up for Gwen fans was when she found herself locking lips with another woman. A fan wanted to know how this was different for her as an actress. She replied, "Well, she didn't have stubble." Trying to answer seriously she continued, "I don't go around snogging girls and when you have to do it in a drama, if it's serving the narrative, you do what you have to do." Not to let a perfect opportunity for some more naughty talk pass her by, she added, "And she's hot." 
It's common knowledge John Barrowman and his character Captain Jack Harkness both have a strong pull on any and all sexes. One male fan at the panel went so far as to tell Myles to inform "Jack" he'd go gay for him. Myles wrapped things up nicely with the only logical response, "I'D turn gay for Jack!" After this panel, I wouldn't be surprised if Eve Myles had the same, powerful effect on people from now on. Watch out for her, she's cheeky.