Warner Bros. Unveils Wonder Woman 75th Anniversary Logo and Plans
After Batman and Superman got their due, many were eager to find out what DC Comics had planned to celebrate the big 75th anniversary of the most famous female superhero. Thankfully, DC has given us all the info you could want about Wonder Woman's spotlight.
Created by William Moulton Marston, Wonder Woman first appeared in the October 1941 issue of All-Star Comics and then went on to her own Sensation Comics #1. The rest, as they say, is history.
To mark the 75th anniversary of one of the world's best-known Super Heroes, Warner Bros. Entertainment and DC Entertainment today unveiled plans for a year-long celebration of Wonder Woman. The character has transcended the pages of comics to become a powerful global symbol of justice, equality and peace.

Beginning with a new commemorative logo honoring the Amazon Princess's legacy, highlights of the year will include the relaunch of her comic book series; new graphic novels; convention panels; and consumer products, including apparel, toys and other exclusive merchandise. These and further anniversary events will culminate in the release of the very first "Wonder Woman" feature film on June 2, 2017.
"Wonder Woman has long stood with Batman and Superman in the trinity of DC's most iconic Super Heroes, but she also stands alone as a symbol of equality, justice and female empowerment and is more relevant today than ever," said Diane Nelson, President of DC Entertainment, President of Warner Bros. Consumer Products, and President and Chief Content Officer of Warner Bros. Interactive Entertainment. "With her roots in Greek mythology and American feminism, Wonder Woman is one of the most unique and compelling characters in comic book history; her longevity is a testament to her global appeal and the special place she holds in the hearts of generations of girls who have imagined wielding their own lassos of truth."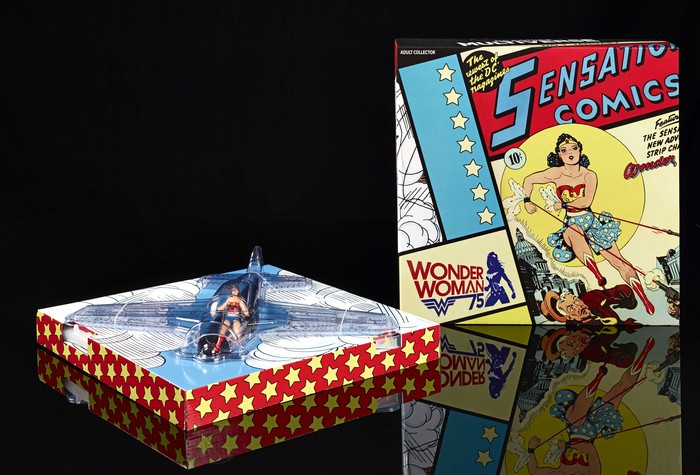 Here's what Warner Bros. and DC Entertainment have announced to celebrate:
At long last, June 2, 2017, will see the long-held hopes of millions of fans fulfilled as the first "Wonder Woman" movie is released in cinemas worldwide, starring Gal Gadot in the title role, Chris Pine as Captain Steve Trevor, Robin Wright as the Amazonian General Antiope and Connie Nielsen as Queen Hippolyta, directed by Patty Jenkins.
A "Wonder Woman 75" panel at San Diego Comic-Con International in July 2016 will celebrate the history and future of the Super Hero, along with displays at DC's booth of Lynda Carter's original costume from the 1970s television series and numerous additional costumes, including the one worn by star Gal Gadot in the upcoming film.
A commemorative box set of Wonder Woman's greatest stories to be released by DC in July, as well as a hardcover special edition celebrating her 75th anniversary to be released in October and available through the holidays.
A life-size Wonder Woman invisible jet will be on display at San Diego Comic-Con and the rare plane will illuminate at night for fan photos, along with one-of-a-kind Wonder Woman-inspired graffiti-art pieces. WBCP and Mattel will offer an exclusive anniversary DC Multiverse™ Wonder Woman Action Figure and Invisible Jet combo set (available exclusively on Mattycollector.com beginning June 17) designed especially for the 75th celebration.
A wide range of new Warner Bros. Consumer Products licensed merchandise, including The Barbie™ Collection Amazon Princess Wonder Woman™ Barbie® Doll (available exclusively on Mattycollector.com beginning June 17), fashion and accessories from partners such as Valentino, Under Armour and Converse, luggage and backpacks from Pottery Barn, and a line of Wonder Woman-inspired beauty products available exclusively at Walgreens.
New toys and webisodes from the recently launched DC Super Hero Girls line prominently featuring Wonder Woman, as well as an original animated movie, "DC Super Hero Girls: Hero of the Year," coming to Digital HD on August 9 and DVD on August 23.
Included on the home entertainment release of "Batman v Superman: Dawn of Justice," coming to Digital HD on June 28th and Blu-ray Combo Pack on July 19th, is a 22-minute featurette called "The Warrior, The Myth, The Wonder" which explores Wonder Woman's history, origin, evolution and powerful impact on popular culture.
Curated Spotify playlists from top female talent in music, film, TV, sports, and more. WaterTower Music and DC's weekly playlists showcase the music that inspires these ladies to be Wonder Women in their daily lives. Listen to the first curated list from musician Brandy Clark here and follow the WW75 playlist to receive weekly updates.
Wonder Woman returns as a major player in the upcoming video game "Injustice 2," the highly anticipated sequel in development by NetherRealm Studios to be published by Warner Bros. Interactive Entertainment in 2017.