Web Comic Review – The Undergrounds
So Dracula, The Mummy, Wolfman and Frankenstein's Monster walk into a bar. No, wait…Four monsters, picked to live in a house…No…that's not right either. How about the four most famous monsters wind up running a cafe with the greatest monster hunter, Van Helsing, watching their every move and drinking all their coffee? Sound interesting. That's The Undergrounds, from Semantink Publishing.
The Undergrounds is a free weekly webcomic strip written interchangeably by Michael Fountain, Derek Johnson, Marcel Losada, James Ninness (author of Mythoi) and Joe Pezzula. The art duties are handled solely by Daniel Touchet, who you may remember is the artist of the upcoming Sim-I from Semantink with Pezzula.
The premise is simple, as any good comedic strip should be. Dracula is the virgin-loving (also Soduku-loving) manager of a coffee house called The Undergrounds. On a daily basis, his monstrous employees somehow manage not to kill or scare all the customers away while providing mostly sanitary beverages. Mostly.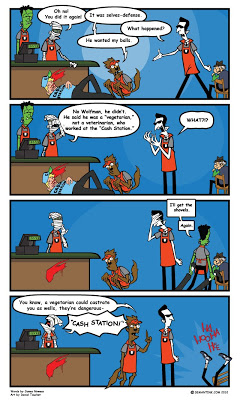 Frankenstein's Monster is a total pervert, although sometimes it can come off as sweet, but no, usually just perverted. (He's got a fondness for their cappuccino machine.) Wolfman is dumb as a brick, or dumb as a dog if you won't take offense to that. He's the comic relief in the cafe. And then there's Van Helsing, who just happens to be their best customer and worst enemy. He's also a dirty, dirty old man. The Mummy is easily the most level-headed of the bunch.
Sometimes the jokes are a bit too on-the-nose for my taste but mostly The Undergrounds is just great, non-clean fun. It's something that could easily fit in a daily newspaper's comic strip section…if the newspaper was published by Larry Flynt. When I heard how many writers there were on the comic I was a little apprehensive but the group's scripts flow seamlessly. Touchet has a great way with the details. He peppers the background with cameos the likes of Green Lantern, Hellboy, Captain America…Danzig, showing that he's got a great affection for the medium. Not to mention he can draw some hot little ladies. If you're a fan of the classic movie monsters and some gross-out humor, The Undergrounds is right up your alley.