The Whedonator
Have I lost my sense of humor or is this not funny at all?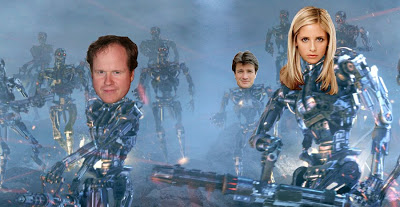 Not the picture I put together obviously. The picture is hilarious. I mean the pseudo-joke Joss Whedon decided to pull yesterday. In "An Open Letter to Terminator Owners. From a Very Important Hollywood Mogul" at Whedonesque, Whedon lays down an offer to purchase the Terminator franchise. First reported by Financial Times, the rights to Terminator are going up for auction this month by current owners, Halcyon. The production company behind the latest film installment, Terminator: Salvation, recently filed for bankruptcy.
Never fear! Whedon is here to pick up the slack. He's offering a cool $10,000 for the franchise. That's right. Mere pocket change for the creator. "I am Joss Whedon, the mastermind behind Titan A.E., Parenthood (not the movie) (or the new series) (or the one where 'hood' was capitalized 'cause it was a pun), and myriad other legendary tales," he wrote. "I have heard through the 'grapevine' that the Terminator franchise is for sale, and I am prepared to make a pre-emptive bid RIGHT NOW to wrap this dealio up. This is not a joke, this is not a scam, this is not available on TV. I will write a check TODAY for $10,000, and viola! Terminator off your hands."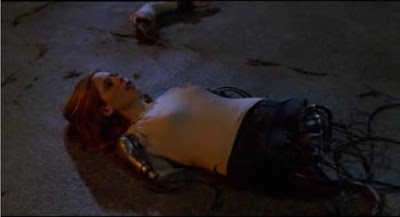 Been there, done that.
According to Whedon himself, here are the possible roads he could take with the franchise:
1) Terminator… of the Rings! Yeah, what if he time-travelled TOO far… back to when there was dragons and wizards? (I think it was the Dark Ages.) Hasta La Vista, Boramir! Cool, huh? "Now you gonna be Gandalf the Red!" RRRRIP! But then he totally helps, because he's a cyborg and he doesn't give a s#&% about the ring — it has no power over him! And he can carry it AND Frodo AND Sam AND f@%& up some orcs while he's doing it. This stuff just comes to me. I mean it. (I will also offer $10,000 for the Lord of the Rings franchise).

2) More Glau. Hey. There's a reason they're called "Summer" movies.

3) Can you say… musical? Well don't. Even I know that's an awful idea.

4) Christian Bale's John Connor will get a throat lozenge. This will also help his Batwork (ten grand for that franchise too, btw.)

5) More porn. John Connor never told Kyle Reese this, but his main objective in going to the past was to get some. What if there's a lot of future-babies that have to be made? Cue wah-wah pedal guitar — and dollar signs!

6) The movies will stop getting less cool.
Number six is extremely important because, as we all know, his television shows have gotten progressively cooler over the years. I'm giving you my grumpy face Dollhouse.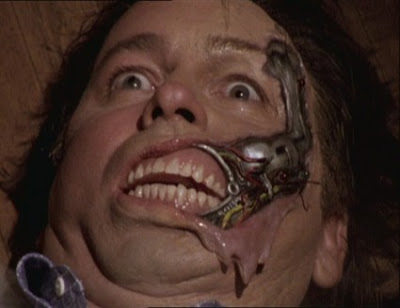 Speaking of grumpy faces, remember Ted?
So yeah, I didn't laugh once. Is that bad? I am a JW fan. Maybe it's because when I first read the headline I thought it was a serious story and almost got violently ill. Seriously, a worse fit for Terminator I'd be hard pressed to find. Granted, the throat lozenge schtick was good but not because it was funny, because it made sense. So while it was meant to be entertaining, one couldn't help but wonder if there was some sincerity tucked away in all those bad ideas. Entertainment Weekly immediately called Whedon to confirm whether or not this was a joke.
"Here's the thing: It's not a slam on The Terminator. I love The Terminator. That part's totally true. I was thinking to myself, 'Not since they auctioned off frames from The Little Mermaid have I wished I had more money this much. So you know what, never hurts to ask.' I loved the movies, even the later movies. I loved the mythology. I loved the TV show [The Sarah Connor Chronicles]–like, really loved. Not for pretend. And not just because of [star] Summer [Glau]. But mostly, it's just me being a dumb-ass, because that seems to be what I do best — I'm not even very good at that."
I don't think there's anything left for me to say.