Would you accept this Oracle substitute?
DC's decision to revert Barbara Gordon from her integral role as Oracle in the DC Universe back to her more culturally popular Batgirl persona was a divisive one to say the least. You all know my feelings on it. But at San Diego Comic-Con last week I was introduced to a brand new character I think I might just learn to love.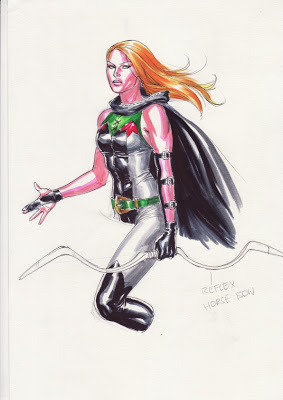 Her name? Well as of right now it's only The Horsewoman but I'm assuming we'll learn her real name down the road. She's a character in Paul Cornell, Diogenes Neves and Oclair Albert's new Demon Knights series (Although this character art is by Gary Frank) and she's disabled.
"The Horsewoman is one of the seven Demon Knights, flung together by a desperate battle," said series writer Paul Cornell on DC's Source Blog. "She's a mysterious rider who tries to stay apart, on a lonely journey across Medieval Europe. She can ride, but she can't walk, supported in her saddle by magic and invention. She has an absolute affinity for all horses, and she's the greatest archer in history. She tries hard not to care, but always ends up helping those who need her. And the little village Etrigan's reluctant team end up defending from enormous odds is going to need her now."
The Horsewoman could easily come off as an Oracle substitute, especially since she's a redhead, but I see this as a really interesting spin on disability and how to deal with it in a non-modern setting. It helps that I used to horseback ride of course but it also helped hearing Cornell's take on the series and the character at the convention (He compared it to Game of Thrones). Demon Knights wasn't a series I was planning to pick up from the 52 releases in September but now I am. No one will ever replace Oracle in my mind or heart but The Horsewoman could be a new favorite.
Demon Knights is in stores and online September 14th.