The ancient Shamans were next called upon to do the hokey pokey and turn themselves around.
Looking to contact your vampire ex-lover from beyond the grave? How about finding out if you'll ever get out from under your kitten debt to that loan shark demon, Teeth? Well look no further folks. Presenting: The Buffy the Vampire Slayer "
Conversations with Dead People
" Board and the extra special Buffy the Vampire Slayer Tarot Deck!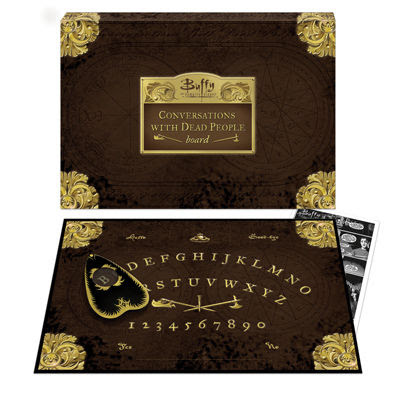 Have I sold you yet? For most Buffy fans, myself included, there's no hard-sell needed. They will be mine and it will be glorious. The board, if you didn't already know, is named after an episode from Season Seven of BTVS. It comes with a fun extra too, a comic-style instruction booklet written by current Season Eight author Drew Goddard and illustrated by Paul Lee, who's also drawn some of Season Eight.
The tarot deck was written by established tarot writer, Rachel Pollack, who also wrote the
Vertigo Tarot
for DC/Vertigo a while back. The art here is also done by Lee and pulls themes and characters from all eight seasons of Buffy. They come with an instruction book f you actually want to learn how to use them but if you're like me you just want them because they're gorgeous. Either way you'll be happy but the extra cool thing is the book also explains how the deck fits into the Buffyverse and gives them their own backstory.
Comic Book Resources
 has a full write-up of the story behind the creation of the deck and previewed these two cards.
The Occasional
Superheroine
 had a preview of two of the more, shall we say, thought provoking cards.
And just the other day 
Newsarama
 gave us a look at one more card. Who else could have been the High-Priestess?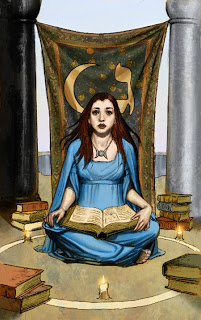 The High Priestess
Both the talking board and tarot deck are set to be released in September. "Conversations with Dead People" is already available for pre-order on the Dark Horse website for $29.99. I would imagine the tarot deck will be up soon. Happy haunting, or slaying, as the case may be.
digg_url = 'https://thenerdybird.com/2008/05/ancient-shamans-were-next-called-upon.html';