Arkham City Ass
I've expressed my undying affection for Batman before, haven't I? Well it's always fun when my devotion gets kicked up a notch. This time it's thanks to Official Playstation Magazine of the UK. Their September cover gives us a look at the Batman: Arkham Asylum video game sequel, Batman: Arkham City. And they don't call it a teaser image for nothing…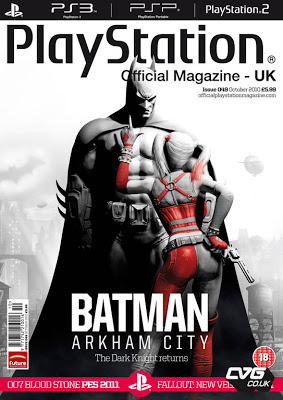 Sure, he looks like he's about to put her down but I'd kill to be in Harley Quinn's position right there. Plus, her altered design rocks. Deputy Editor of the magazine, Leon Hurley had this to say:
Got a diary? Turn to Thursday, September 2nd and write down "Official PlayStation Magazine UK out!" You can't miss it, it's got that stunning new piece of Batman: Arkham City art on the cover. And a massive feature on the super-sequel inside. Team OPM UK visited Rocksteady to talk to the team, see the game in action, eat their donuts, and all to bring you UK exclusive info, interviews and screens. As you can see, Harley's had a makeover. That's all we can say online, though.
If you haven't played the first game, you are definitely missing out. I'm not even that big into games like this but I bought it because of Batman (of course) and was in awe of how good it was. I want to play it again before the sequel is out and I can't wait to see the kind of images that come from inside the magazine.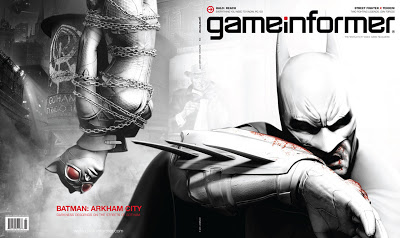 This is the September cover (and back) of Game Informer here in the U.S. Click to view this one larger because in the background you get a shot of Two-Face in a mock Uncle Sam pose. And well, Catwoman upside-down and in chains. The alternate cover has her tying him up with her whip. What are they trying to do to me??
You might also want to keep an eye out on Game Informer's
Arkham City hub
where they're hinting at more info to come this Saturday. My hope against hope? That you get to play as Catwoman. What are you looking forward to from the game?