Bruce Timm Teams Batman and Harley Quinn For Warner Bros' Next Animated Feature
Bruce Timm, of Batman: The Animated Series fame and so much more, is about to help reunite two of DC Comics most popular characters. Batman and Harley Quinn are getting their own animated film from Warner Bros.
The film, announced as Batman and Harley Quinn at San Diego Comic Con last year and set to arrive this summer, will apparently only be executive produced by Timm. The writer and director have not been revealed yet (but I'm pulling for Paul Dini).
Correction: Bruce Timm is executive producer of "Batman and Harley Quinn." Writer & Director will be credited when that info is announced. https://t.co/T7TGrMpU5G

— Gary Miereanu (@SuperPRGuy) March 27, 2017
According to ToonZone the first teaser image (above, which also includes Nightwing) was revealed on the iTunes page for Warner's most recent animated feature, Teen Titans: Judas Contract. The style looks very much in keeping with Timm's animated DC universe of days past (BtAS is celebrating its 25th anniversary this year!) so fingers crossed for a fun romp rather than some of the darker animated films we've seen from them recently.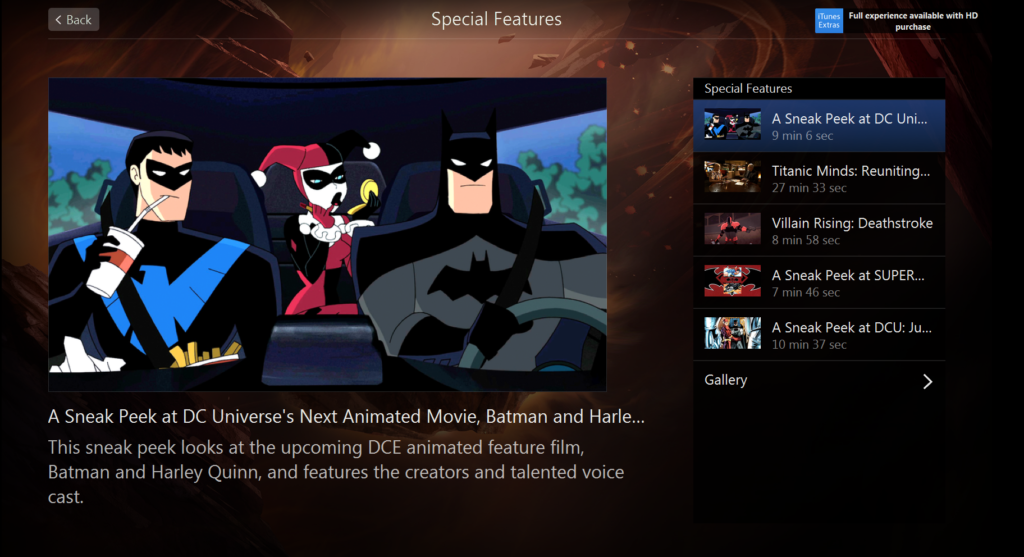 [Editor's Note: affiliate link] Teen Titans: Judas Contract is set for a April 18, 2017 release. Here's the trailer and the press release for that one.
Warner Bros. Animation and DC Entertainment bring one of the most momentous Teen Titans plotlines in comics history to animated life with the all-new, feature-length film Teen Titans: The Judas Contract. Inspired by the 1984 DC story arc from Marv Wolfman and George Pérez, Teen Titans: The Judas Contract will be distributed by Warner Bros. Home Entertainment on April 18, 2017.

The landmark Teen Titans story will be available on Blu-ray™ Deluxe Giftset ($39.99 SRP), Blu-ray™ Combo Pack ($24.98 SRP) and DVD ($19.98 SRP) starting April 18, 2017. The Blu-rayTM Combo Pack includes the movie in high definition on Blu-ray Disc, a DVD, and a digital version of the movie on Digital HD with UltraViolet*. The Blu-ray™ Deluxe Edition will include all components of the Blu-ray™ Combo Pack, along with an exclusive figurine of Blue Beetle in a numbered, limited edition gift set. Teen Titans: The Judas Contract will be released via Digital HD on April 4, 2017.

Led by Starfire, the Teen Titans – Beast Boy, Raven, Blue Beetle, Robin and the just-returned Nightwing – have built a cohesive team in their never-ending battle against evil; but their newest teammate, the mysterious, and powerful Terra, may be altering that dynamic. Meanwhile, an ancient evil, Brother Blood, has awakened, and familiar foe Deathstroke is lurking in the shadows – both waiting to pounce. Ultimately, the Teen Titans will need to battle their enemies and their own doubts to unite and overcome the malicious forces around them, in this twisting tale of intrigue, adventure and deception.

Christina Ricci (Sleepy Hollow, The Addams Family) and the late Miguel Ferrer (NCIS: Los Angeles, RoboCop, Crossing Jordan) join the already established Teen Titans voice cast as Terra and Deathstroke, respectively. Returning Titans actors include Sean Maher (Firefly/Serenity, Batman: Bad Blood) as Nightwing, Stuart Allan (Batman vs. Robin, Batman: Bad Blood) as Robin/Damian, Taissa Farmiga (American Horror Story) as Raven, Jake T. Austin (Wizards of Waverly Place, The Fosters) as Blue Beetle, Brandon Soo Hoo (Tropic Thunder, From Dusk Til Dawn: The Series) as Beast Boy, and Kari Wahlgren (Phineas and Ferb, Legion of Superheroes) as Starfire. Gregg Henry (Scandal, The Killing, Payback) voices the villainous Brother Blood.

The voice cast also includes Maria Canals-Barrera (Wizards of Waverly Place) as Jaime's mother, Meg Foster (They Live) as Mother Mayhem, Crispin Freeman (Justice League Action, Batman: Arkham games) as Speedy, Masasa Moyo (Young Justice) as Bumblebee, David Zayas (Gotham, Dexter) as Jaime's father, Jason Spisak (Young Justice) as Kid Flash, and Kevin Smith (Clerks, Geeking Out) as … himself.