Chicks Dig Comics/Womanthology Updates!
Hey, everyone…..I'VE GOT TWO BOOKS IN STORES TODAY!!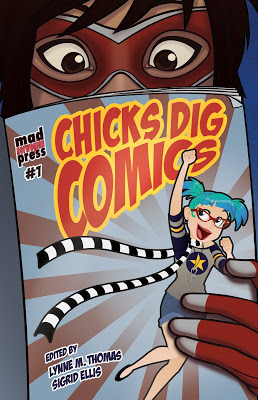 Actually hitting stores TODAY, is Chicks Dig Comics from Mad Norwegian Press, a series of essays from women about their love of, you guessed it – comics! Check out this crazy line-up involved.
Introduction by Mark Waid
Editors' Foreword, by Lynne M. Thomas and Sigrid Ellis
Mary Batson and the Chimera Society, by Gail Simone
Summers and Winters, Frost and Fire, by Seanan McGuire
Cosplay, Creation, and Community, by Erica McGillivray
An Interview with Amanda Conner
A Matter of When, by Carla Speed McNeil
The Other Side of the Desk, by Rachel Edidin
An Interview with Terry Moore
Nineteen Panels about Me and Comics, by Sara Ryan
I'm Batman, by Tammy Garrison
An Interview with Alisa Bendis
My Secret Identity, by Caroline Pruett
The Green Lantern Mythos: A Metaphor for My (Comic Book) Life, by Jill Pantozzi
Vampirella, or: How I Learned to Stop Worrying and Love the Page Turn, by Jen Van Meter
Confessions of a (Former) Unicorn, by Tara O'Shea
The Evolution of a Tart, by Sheena McNeil
Kitty Queer, by Sigrid Ellis
The Captain in the Capitol: Invoking the Superhero in Daily Life by, Jennifer Margret Smith
Burn, Baby Burn, by Lloyd Rose
Tune in Tomorrow, by Sue DCWKA
An Interview with Greg Rucka
Comic Book Junkie, by Jill Thompson
From Pogo to Girl Genius, by Delia Sherman
I am Sisyphus, and I am Happy, by Kelly Thompson
Captain America's Next Top Model, by Anika Dane Milik
An Interview with Louise Simonson
Me Vs. Me, by Sarah Kuhn
A Road That has No Ending: Revenge in Sandman, by Sarah Monette
Mutants, by Marjorie Liu
You're on the Global Frequency, by Elizabeth Bear
Crush on a Superhero, by Colleen Doran
I couldn't be more happy to have been involved and I'm thrilled that I get to join the ranks of Lynne and Sigrid's other books, Chicks Dig Time Lords and Whedonistas.
The second book I was honored to be a part of, has already been in stores for a few weeks now, Womanthology from IDW Publishing! You've heard about the Kickstarter sensation, well it's finally a reality. Check out the complete contributor list on the Womanthology blog.

It's completely surreal, not just to have my first ever comic in print (Dream Weaver), but to have it in print alongside women I truly admire and have been fans of for years. And for those who've read my story and are wondering, yes, it's part of a much larger story. I hope I get to tell it some day.
For anyone who's already got their copies – THANK YOU!! And for anyone who's going to go buy them now at the links I've provided – THANK YOU!! And another big THANK YOU for all your continued support. When I started this blog back in 2008, I had no idea this is where I'd end up but I am very glad to be here. Now, where do I go next?