Comic Book TV Roundup: Legends of Tomorrow, iZombie, The Flash, Legion, Agent Carter
There were a few bits of comic book TV news I meant to post about this week and didn't get around to it. So without further ado, the latest on Legends of Tomorrow, iZombie, The Flash, Legion, Agent Carter and more!
My goodness there's a lot of comic book television shows. And this is just a fraction! Ok let's see what I've got for you…
Two more Veronica Mars actors are making their way to Rob Thomas' iZombie – Veronica herself Kristen Bell and her fictional dad Enrico Colantoni. According to The Hollywood Reporter, Enrico "will take on the recurring role of Lou Benedetto, a vice detective whose cases overlap with Liv's (Rose McIver) personal and professional life. He begins filming this week and will appear in episodes 14 and 17."
Bell on the other hand, will be going back to her Mars and Gossip Girl roots and provide voiceover work. Entertainment Weekly writes Liv "consumes the brain of a young librarian who was poisoned, and who also happened to secretly be an erotic fiction writer. Details on how Bell fits into the story are being kept under wraps." The episode, titled "Fifty Shades of Grey Matter," will air on January 26. I can't wait.
In other CW news, the upcoming Legends of Tomorrow series has just cast Firefly's Jewel Staite as a guest star. TV Line says she'll play "Rachel Turner, a tech genius/roboticist who exists in a future in which technology has an even firmer grip on our lives than it does today…A descendant of a long line of inventors — one of whom turns out to be someone from the DC Universe!" Any guesses?
We've also got word of another Arrow/The Flash crossover with ComicBook.com reporting David Ramsey (Diggle) and Audrey Marie Anderson (Lyla) are headed out of town. Producer Andrew Kreisberg told them, "The Diggles arrive in Central City to help Barry take on King Shark who has escaped from ARGUS and is hellbent on completing his mission of destroying The Flash." Anything that gives me more King Shark is a good thing.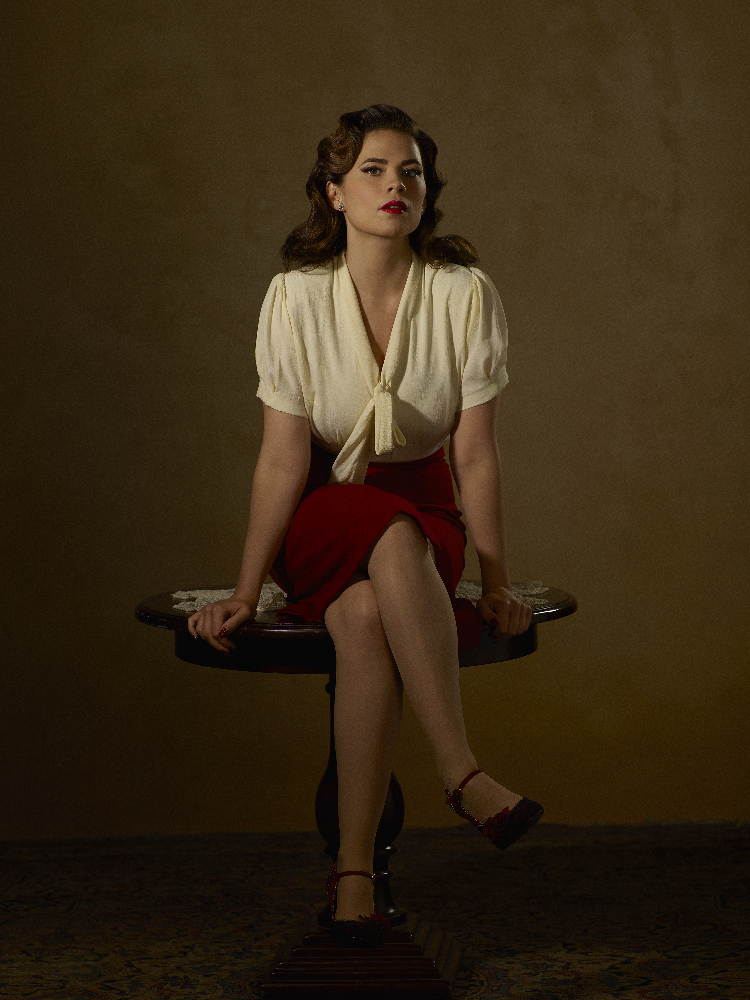 Agent Carter Season 2 is just one of ten genre series premiering in January and ABC has just released some new cast photos. Head over to Hitfix to see the rest!
In related Marvel news, a new pilot is in the works at FX called Legion. It's an X-Men based series from Fargo creator Noah Hawley and Bryan Singer. Here's how Deadline describes it:
Legion introduces the story of David Haller, based on the Marvel comics character Legion, the son of X-Men founder Charles Xavier. Since he was a teenager, David has struggled with mental illness. Diagnosed as schizophrenic, David has been in and out of psychiatric hospitals for years. But after a strange encounter with a fellow patient, he's confronted with the possibility that the voices he hears and the visions he sees might be real.
Rachel Keller, who played Simone Gerhardt in Fargo Season 2, has been cast as the lead but it's unclear at this time which mutant she'd be playing.
Finally, you may recall talk of a Warner Bros./DC Comics pilot being worked on called Powerless. It's a half hour comedy meant to evoke The Office. Well, Entertainment Weekly reports NBC has picked it up as a series. [Edit: some slight confusion here. The report from last August said "pilot production commitment" while this current one says "ordered a comedy pilot." So actually not much has changed on this front.] They write it's "billed as 'an office comedy about the exceedingly average employees at an insurance company and their quest to find their own power.'"