Convincing myself Anne Hathaway can play Catwoman through pictures.
Big news out of Hollywood today. Anne Hathaway has officially been cast as Selina Kyle in the third Christopher Nolan Batman film, The Dark Knight Rises. It was also announced that Tom Hardy, who was already down for a role, will be playing Bane. My initial reaction to Hathaway's casting? DO NOT WANT. So here is my attempt to convince myself the Princess can play the prostitute.
There's no doubt in my mind Hathaway is a talented actress, it's just that in my mind, when I look at her I see sweet and proper. I can't help it. My first introduction to her was in The Princess Diaries. Then she was in Ella Enchanted. And then another Princess Diaries movie. But at least in this shot she looks like Selina decked out for a Gotham social event ready to do some pick-pocketing.
And before, like everyone else, you point out movies like
Havoc
or
Rachel Getting Married
, I haven't seen those. People have been sending me clips all day and all I can see is her acting like she's on
Saturday Night Live
. Though, slinking cat in this pic?
But here's an interesting tidbit. Sue over at
DC Women Kicking Ass
picked up on the fact that "Catwoman" is never mentioned in the press release from Warner Bros., only "Selina Kyle." So could we have another "Two-Face" situation on our hands? Will Hathaway not become Catwoman until the end of the film? This shot makes me think of
Batman: Year One
with Selina hanging out her apartment window.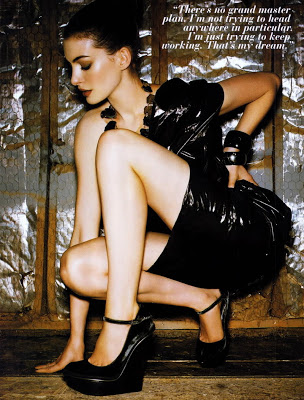 Apparently she beat out Jessica Biel and Keira Knightley for the role, neither of which I would have been particularly pleased about either. A lot of people have asked me who I'd rather have play Catwoman, and while I never really decided on someone, Rachel Weisz was brought up and I certainly would have been content with her. I picked this shot because, well, vinyl and I can see her crouching on a rooftop like that.
In the official press release Nolan said, "I am thrilled to have the opportunity to work with Anne Hathaway, who will be a fantastic addition to our ensemble as we complete our story." And that's really what all the skeptics, including myself, have to remember. In my mind, Nolan has not steered the Batman ship wrong yet. A lot of people didn't think Heath Ledger would make a good Joker and look how that turned out. So although I don't care for the choice, I'll trust that Nolan made the right decision for the film.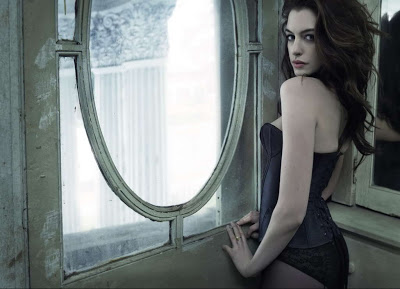 I'm still holding true to the fact that I would have preferred Talia Al Ghul in
The Dark Knight Rises
. It would have made great symmetry with
Batman Begins
and helped bring everything full circle. But you know, Catwoman is Catwoman and I love her. And nothing could be as bad as Halle Berry. Right?
At least she's got boots on in this one. So what do you think of the casting choice? Will Hathaway make a convincing Selina Kyle? And although this was mostly about her, what about Hardy as Bane? Not sure which direction Nolan will take with him but Hardy is a fantastic actor.
The Dark Knight Rises hits theaters on July 20, 2012.