The Cure
No, this isn't about the band. Nor is it about the $110,000 we raised yesterday to help find a cure for Muscular Dystrophy at the Stride & Ride. This is about Barbara Gordon.
Let's play a little word association. When you hear her name, what's the next thing that comes to mind? Batgirl? Oracle? How about Commissioner Gordon or even the Joker? For me, it's Oracle and that's not the only reason why the new miniseries "Oracle: The Cure" holds special meaning for me.
You may have expected I'd be writing about this, after all I am a redhead in a wheelchair, but I almost didn't. After reading some other fans opinions of the first issue online I felt I needed to speak my exact feelings on Oracle's possible cure, even if it was a bit personal.
First off, do I think they're going to actually do it? Will DC make Barbara Gordon walk again or will the cure be for someone else, namely Calculator's daughter Wendy? Honestly, I have no idea and that makes me truly nervous. At Wizard World Philly last year a fan asked Dan Didio if she would ever walk again. He answered simply, "No. Never." On the other hand, Didio regularly talks about how he's been working to bring the most recognizable characters back to their iconic roles; i.e. Hal Jordan and Barry Allen. Bearing that in mind, it would make sense if that's where the series was headed but, is it the right move?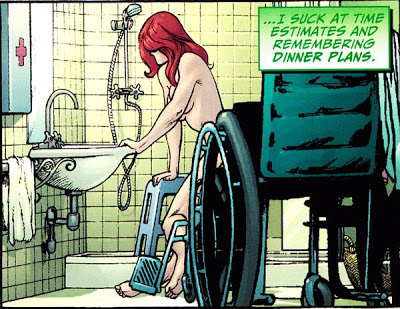 Even though I don't have the same type of disability as Babs I've obviously always related to her. So no, I hope she never walks again. I think it was bold of DC to show her taking a shower in the first issue. Not for the skin factor but because it shows the struggle she must go through each and every day during the simplest of tasks. 
I understand the argument that these are comics – where people come back to life regularly – so it's unbelievable that in this fictional world she hasn't been healed already. I also understand the character's drive to find a cure, hell I know I'm doing the same thing, but once you take the disability away from Barbara she loses rather than gains. 
Right now, no matter how many modifications Barbara makes to her shower it's still going to be a struggle. Every hero has something they must overcome or a defining moment that makes them who they are. Bruce Wayne's parents are never going to be there for him again, so why would you take away Barbara's driving force? See, it's not just the fact that we're both disabled and I want to keep her that way so I have someone to relate to, I'd have to argue she's more interesting as Oracle than she ever was as Batgirl. She's always had a good heart but Barbara started fighting crime without a dynamic cause. As Oracle she'll always have a larger purpose and mission.
Putting everything else aside, you can't honestly see her taking on the role of Batgirl again can you? She's all grown up now and Batwoman is already taken. If she's cured but remains as Oracle, can you believe for one second she'd sit out all the fights to work solely from behind the scenes? No way! Babs is a fighter through and through but she's worth way more to the DCU than her ability to execute a perfect roundhouse kick.