Del Toro brings a Deadman to life.
I guess you could say there's an elephant in the room. And by that of course I mean the HUGE
Marvel news
that broke yesterday. I considered writing something about that but decided against it for two reasons. One, everyone and their mother is talking about it already. Two, I found some news that excited me much more. Boston Brand is getting his own movie.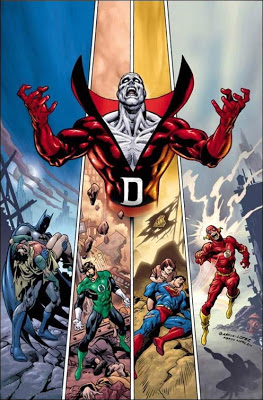 Variety is reporting Guillermo del Toro will be producing an adaptation of DC Comics' Deadman for Warner Bros. Originally created in 1967 by Arnold Drake and Carmine Infantino, trapeze artist Boston Brand was granted the power to possess any living being by the goddess Rama Kushna after he was murdered. He's been on a constant quest for his killer and eternal peace ever since.
Brand is also known as a bit of a comedian in the DCU, most recently appearing in
Wednesday Comics
and
Blackest Night
. "Warner Bros. set up the project three years ago as a potential directing vehicle for del Toro, with Gary Dauberman penning the adaptation," says Variety. However, Danish writer/director
Nikolaj Arcel
will now be sitting in the directors chair.
I'll admit, I'm not the biggest Deadman fan but with the amazing talent of del Toro behind the film, I'm all for it. Especially since Deadman isn't too far off from del Toro's pride and joy – Hellboy. It's interesting that DC and Warner are going for another lesser-known character, like they did with Jonah Hex, as opposed to moving forward with something closer to Green Lantern.
Oh wait, make that three reasons for not writing about that other news. I don't read Marvel. :)