The Demon Director of West 53rd St
Tim Burton is his name. Madness is his game. I was one of the 810,500 visitors who helped make Burton's retrospective at the Museum of Modern Art in New York CIty their third most visited exhibit ever behind Pablo Picasso and Henry Matisse. This from the man who attached Sarah Jessicca Parker's head to a chihuahua's body. I love our culture.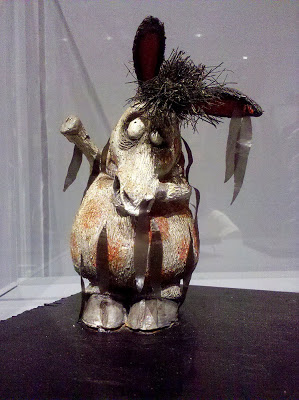 You're greeted in pure Burton fashion as you must walk through a giant, gaping mouth to get into the exhibit. The hallway you walk down is long and striped and reminded me greatly of Beetlejuice (even though the image is based on a sketch of Burton's). After viewing his Stainboy shorts there you enter a blacklit room that holds what looks like an oversized mobile for a very, very disturbed child. Perhaps Burton himself?
I've been to a few special exhibitions before and barring the unusual nature of Burton's works, I've never seen anything quite like this. Usually the walls are covered with a few pieces each, making walking through a breeze. Not this one. There are over 700 items to look at. You can easily loose track of time getting a look at each one. The costume below and a corresponding robot cookie cutter prop from Edward Scissorhands were among my favorite.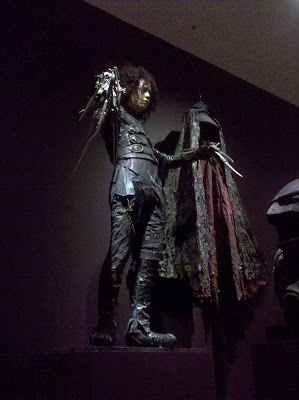 According to MoMA, the "exhibition explores the full range of his creative work, tracing the current of his visual imagination from early childhood drawings through his mature work in film. It brings together over seven hundred examples of rarely or never-before-seen drawings, paintings, photographs, moving image works, concept art, storyboards, puppets, maquettes, costumes, and cinematic ephemera from such films as Edward Scissorhands, The Nightmare Before Christmas, Batman, Mars Attacks!, Ed Wood, and Beetlejuice, and from unrealized and little-known personal projects that reveal his talent as an artist, illustrator, photographer, and writer working in the spirit of Pop Surrealism."
What was really cool about the exhibit were getting to see Burton's initial sketches for ideas he had and then seeing their progression until they were finally realized on screen. You could definitely see the inspiration in some of his very early doodlings in what turned out to be his most famous films.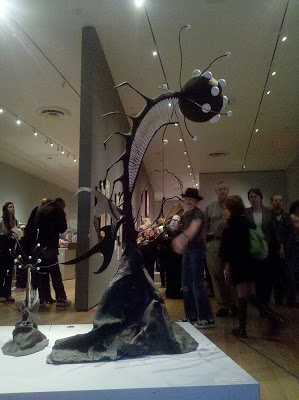 Some of the most interesting things to look at were pieces that didn't necessarily have a film attached to them. And believe me, there were a lot. Many of the sketches were literally torn out of notebooks and framed. Several even had very short stories to go along with them.
Besides Edward Scissorhands, you all already know what my favorite part of the exhibition was – Batman. Besides these fantastic drawings above (which were not all done by Burton), there were a few props. The Penguin's baby carriage, Catwoman's suit from Batman Returns, looking a little worse for the wear I might add, and three cowls. I considered lifting one since it was the last week of the show but there were far too many people there and I'd have hated to hurt someone in my bid to sleep next to a Batman mask. :)
Overall, I think it was a truly amazing, if not overly filled exhibit. I was sad however that there was only one or two depictions of one my favorite Burton creations, The Family Dog. I'd suggest you go have a look for yourself but unfortunately the exhibit has already run it's course. I don't think they'd have an issue keeping a constant flow of visitors to that part of the museum if they decided to keep some of his work there permanently though. Do check out his page on the MoMA website, there are some great behind-the-scenes videos and images to look at.