Does the word "duh" mean anything to you?
It's the words you've been dying to hear. They're making a Buffy movie. Only it's without Joss Whedon, Sarah Michelle Gellar or any of the Scoobies. As if!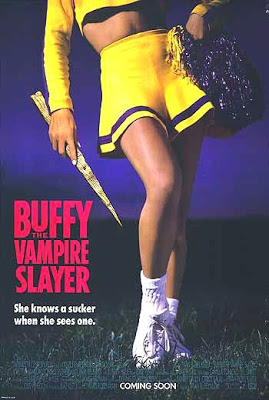 Director of the original Buffy the Vampire Slayer film, Fran Rubel Kuzui and husband Kaz Kuzui, are working with Roy Lee and Doug Davison of Vertigo Entertainment on a remake/relaunch of the 90's classic. The Hollywood Reporter says Buffy creator Joss Whedon so far is not involved in the project which is not even far along enough to have a studio attached to it. "While Whedon is the person most associated with 'Buffy,' Kuzui and her Kuzui Enterprises have held onto the rights since the beginning, when she discovered the 'Buffy' script from then-unknown Whedon," says THR.
The parties involved believe BtVS lends itself to a relaunch because the framework of the mythos consists of a Slayer born for every generation. "The new 'Buffy' film…would have no connection to the TV series, nor would it use popular supporting characters like Angel, Willow, Xander or Spike. Vertigo and Kuzui are looking to restart the story line without trampling on the beloved existing universe created by Whedon, putting the parties in a similar situation faced by Paramount, J.J. Abrams and his crew when relaunching 'Star Trek,'" says THR.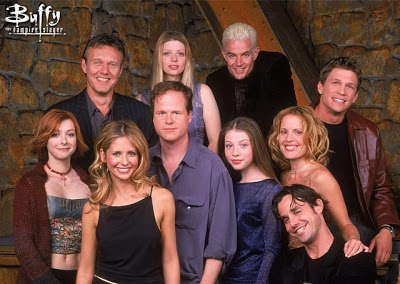 So what would a Buffy relaunch actually look like? "The parties are meeting with writers and hearing takes, and later will look for a home for the project," says THR, "The goal would be to make a darker, event-sized movie that would, of course, have franchise potential." Kuzui herself had this to say, "Everything has its moment. Every movie takes on a life at some point, and this seems like the moment to do this."
In the immortal words of Hilary Swank, "Well, it's retro." Contrary to what my title suggests I have to say I'm not completely against this. After all, as much as I love SMG and crew, I was gaga for Kristy Swanson first ("You threw a knife at my head!"). Plus, let's face it, a movie with the TV cast is never going to happen. I can see it now, Swanson and Luke Perry as Buffy's parents!
Bottom line, I love Buffy as a character and I'll take anything I can get, providing it's quality. Hey, if it's done right we could have a whole new Buffy franchise to look forward to! And let's not get hasty folks, they never said Joss Whedon wasn't going to be involved at all, just that he hasn't been asked yet. Considering they've worked with each other for over 15 years I'm sure the Kuzui's will ask him once they have something more substantial established. Whether he chooses to be involved is another story. What do you think?