DON'T BE A JERK
I have plenty of other words for the subject of this post but "jerk" was the only decent one I could use. I know there are mean, spiteful people in this world. I've had the unfortunate luck to run into several of them in my lifetime but this is a new low. Blogger Alyssa Bereznak recently took to
Gizmodo
, a technology blog, to regale us all with a dating horror story (on a tech blog??). Why was it so horrible you ask? It was with Jon Finkel, a World Champion of
Magic: The Gathering
. And yes, that's why she considered it a bad date.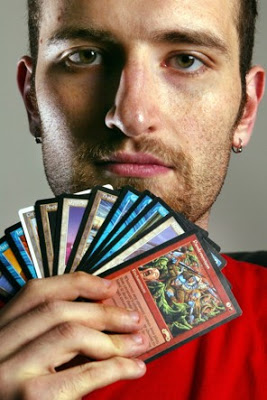 Bereznak has been called out in the comments of the piece as well as several other websites and rightfully so. The post starts off with an italicized warning of sorts, "This story sounds mean. It's about a girl judging a boy because he's a nerd (like so many of us!) that she met on OkCupid." Hmm, a nerd judging a nerd. That's never happened before…right?
Regardless of the preamble, the story went something like this, Bereznak met Finkel on the dating website OkCupid. They had usual first date conversation until for some reason Bereznak mentioned her brother was a gamer. "And then [Finkel] casually mentioned that he played Magic: The Gathering when he was younger," she wrote and then told readers he confessed to being the World Champion. A tough confession to be sure, especially considering the reaction many members of the general public still have to adults liking things like comic books and science fiction. But confess he did and Bereznak couldn't believe her ears. "Before I could dig deeper, we had to go. Jon had bought us tickets for a one-man show based on serial killer Jeffrey Dahmer's life story. It was not a particularly romantic evening," she wrote.
Forget Magic, as a woman, I'd have been concerned about anything involving Jeffrey Dahmer being an acceptable first date activity but no, that wasn't Bereznak's problem. She couldn't accept that this man played Magic. Fair enough. You'd think at that point, if a person's hobbies bother you that much you'd go your separate ways and chalk it up to dating experience. Is that what Bereznak did? No.
She went on a second date with Finkel.
On date two, the blogger (who I'm starting to think went on the second date just so she could write about it) had prepared. She had googled Finkel,
wikipedia page
and all, and hoped that his
Magic
days were behind him.
She wrote, "At dinner I got straight down to it. Did he still play? 'Yes.' Strike one. How often? 'I'm preparing for a tournament this weekend.' Strike two. Who did he hang out with? 'I've met all my best friends through Magic.' Strike three. I smiled and nodded and listened. Eventually I even felt a little bit bad that I didn't know shit about the game. Here was a guy who had dedicated a good chunk of his life to mastering Magic, on a date with a girl who can barely play Solitaire. This is what happens, I thought, when you leave things out of your online profile."
And that was basically that. Until she decided to warn the world about her date by blasting him on a popular website. She also wrote, "I later found out that Jon infiltrated his way into OKCupid dates with at least two other people I sort of know, including one of my co-workers." Infiltrated? Did he know she was connected to these other people or just playing the field like so many others on the dating website?
Whatever the case, Finkel and Bereznak obviously weren't a perfect match so why did she feel the need to tell the whole world about it? And more to the point, why did she call him out by name? Finkel is a public figure of sorts but couldn't she have changed specific details of the story so this guy, who went on an innocent first and second date and had no knowledge that the person sitting across from him would publicly call him out be spared possible humiliation?
Finkel, at least, has responded to the article with his side of the story via his
Twitter account
.
Thanks for all the support internet. People want "my side" but it was really a complete non event. Go out on a date that's kinda blah. Next day the girl tweets me about what shes reading about me, my reply is merely a prophetic, "Remember to use your powers only for good." She then texts me about serial killer dreams and I dont reply because I didnt think we had much chemistry. A couple days later I'm home and I'm a bit bored and I know she works right by me and seemed like the sort of girl I should like so I text her about grabbing a bite since I know she works around the corner. An hour later we meet up and it quickly becomes clear I'm bored, she's bored (I assume) but its raining heavily out. Eventually I suggest we head out anyways and luckily I find a cab. We go our separate ways and never speak again. At that point I just thought she was a nice girl, which I still mostly think. God knows we've all made poor decisions in our lives.
Even though he's been highlighted in a negative way by the blogger, Finkel doesn't seem bitter about Bereznak's article himself and may even wind up getting a few dates out of the whole thing from women who appreciate his hobby, "I'd like to thank everyone for their messages, and I'm sorry I cant reply to them all – especially all the date requests from cute nerdy girls,"
he wrote
. Though he did express some disappointment in a Q&A he held via
Reddit
, "I felt a little, I dunno, violated. Even though the post itself didnt make me look bad at all (at least I didnt think). Still, it's sort of like someone publishing emails you wrote to your girlfriend, or posting part of your diary – it just feels wrong."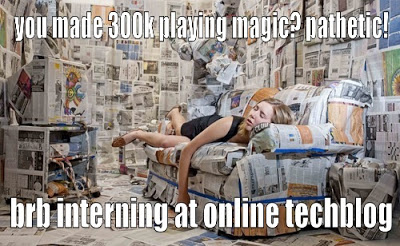 Bereznek made one general statement about the backlash she's received via her
Twitter account
, "dudes, i don't think it's bad to be a dweeb. i just dont want to date someone i can't relate to. not an attack. more a cautionary tale."
Like I said, besides Bereznak's atrocious personal behavior (she warned us she was shallow, what should we have expected?), it was a horrible breech of basic human trust to publish a story about a person who had no idea he was going to be the subject. At least bad date stories from gossip or fashion magazines have the decency to change names when telling their "cautionary tales."
And about Finkel not including his accomplishments in his dating profile, he wrote, "For the record I wanted to state that not mentioning magic in my profile has nothing to do with wanting to hide it or being ashamed of it. In fact my accomplishments in magic are one of the things I'm most proud of in life. There just doesn't seem to be a graceful way to say: '10 years ago I was the best in the world at this game you're only 50% to have heard of' – plus it ensures every conversation goes that way."
Finkel did have a few encouraging words for geeks out there hesitant to share their beloved hobbies with a date, "I know there are a lot of younger guys out there who are thinking, 'I can't let girls know I play magic or they won't think I'm cool.' Despite what you've seen here the vast majority of girls view it neutral or positively – tho admittedly I date more intellectual girls."
In other words, don't freak out, not every person you share your pastimes with will make fun of them online. Most will be adults and either say you're not for them or perhaps ask to learn more about it. And writers? You want to discuss online dating? Fine but do so in a constructive and legitimate way. Go head and be shallow if that's your priority in life but don't be rude. Bottom line, trying to get hits and become an overnight internet "star" aside, being a jerk to a person who did absolutely nothing to you will not get you far in life. So, DON'T BE A JERK.