Elektra Is Ready to Netflix & Chill, Punisher Has Daredevil All Tied Up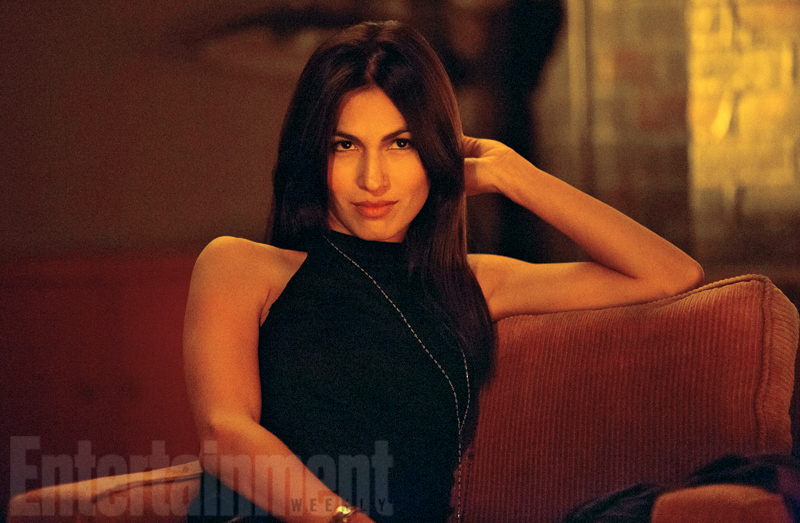 Netflix is gearing up the hype machine for Daredevil Season 2 by revealing our first official looks at both Elektra and the Punisher!
Entertainment Weekly debuted the new images which feature Jon Bernthal (The Walking Dead) as Frank Castle a.k.a. The Punisher and Cambodian/French actor Élodie Yung (The Girl With the Dragon Tattoo, G.I. Joe: Retaliation) as Elektra.
"Matt's a deeply moral complicated guy and [Elektra is] just the best bad girlfriend you can possibly have," new showrunner Doug Petrie told EW. "She does everything wrong and attractive, she's his id, the wild side. Matt is always taming his wild side. Elektra just lets it out. He's both repulsed and deeply drawn to that."
"After a worldwide search, we found in Elodie the perfect actress to embody both Elektra's impressive and deadly physicality, as well as her psychological complexity," said Executive Producer and Head of Marvel Television, Jeph Loeb about her casting. "Paired with Charlie [Cox] as Matt Murdock, the two will bring one of the most beloved and tumultuous comic book relationships to life with all the accompanying sparks and spectacular action sequences the show is known for."
EW says Bernthal's Punisher will show up early in Season 2:
As comic fans know, Castle is an ex-Special Forces soldier with a tragic past who becomes a New York vigilante. He has the same clean-up-the-streets mission as Matt Murdock (Charlie Cox), except he uses guns instead of beatdowns and quite simply murders every criminal he can find. Whether he's a hero or a villain is left open to interpretation (and has long been argued both ways by fans online), but the first couple episodes will have many viewers supporting his techniques.
Petrie admits the character is a tough one to tackle in modern times.
"Taking lethal justice into your own hands in America in 2015 is tricky s–t. We have not shied away from the rich complicated reality of Now. If you've got a gun and you're not the police you're going to incite strong feelings," he told EW. "We're stirring the pot and we're aware of the headlines where we live and we're trying to get people to think."
While Bernthal said of the character, "This character has resonated with law enforcement and military. He's brought the war home with him in the worst possible way. And the best thing about him is that if he offends you, he just doesn't care."
Here's one more new image of Matt and Karen (Deborah Ann Woll).
Much like Matt in Season 1, neither Punisher nor Elektra's "costumes" have been revealed yet. Season 2 will air at a yet-to-be-announced date in 2016.