FAIL
Everyone has an opinion on who they'd like to see play Wonder Woman in a live-action film. It seems one fan took their and ran with it. Not only did they photoshop Transformers star Megan Fox into the famous costume, they created their own viral marketing campaign. 
Wonder-Who.com popped up last week with a picture of the Wonder Woman logo over an American flag with the words, "The Truth Will Be Revealed," below. Over the next few days parts of the flag photo were "ripped" off, similar to the Joker picture from The Dark Knight, and showed parts of a woman standing underneath. You can see at io9 each time the image was ripped a new tagline was written, "It's time for a new 'W,'" is just one of them.
Anyone can see this is an obvious photoshop of the actress yet, I'm assuming, it's the DC, Legendary Pictures and WB logos that fooled more than a few journalists into thinking this was a site created by one of those companies and therefore the real deal. The site is not registered to any of them and indeed
JoBlo.com got confirmation
from a Warner Bros. rep that it's "complete BS."
It's an impressive effort to highlight a certain actress in the role and although it's been done before, it's never been to this extent or detail. Now the questions is, will any of the companies be taking legal action for improper use of the logos in the making of this hoax? I hope not, the fan obviously has talent and a strong point of view. I say they hire him or her for their web department.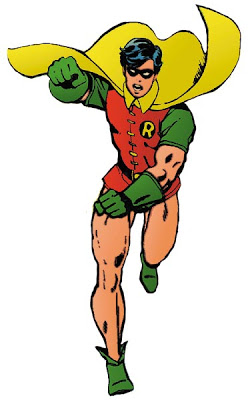 Another one down the tubes, in a hallelujah-they've-seen-the-light kind of moment (for me anyway) it was
announced this past week
that The Graysons series would not be taking flight after all. 
Variety says the decision came from Jeff Robinov from Warner Brothers Pictures Group, although another executive said, "Warner Bros. TV never had 100% clearance." The actual statement released by the studio read, "The studio has opted not to go forward with the development of 'The Graysons' at this time as the concept doesn't fit the current strategy for the Batman franchise. Warner Bros. Television is currently working on several replacement options for the CW." Production had not begun and a script had yet to be written.
You may recall
my
inherent dislike
for the idea, so I'm glad they came to their senses. I wouldn't be entirely surprised if fan reaction played a part either. It seems to me that if the CW is looking for something to replace Smallville, they should look within their own cast. Spin-offs could easily be made with either Supergirl or Green Arrow and probably have better results.