The First Lady of Star Trek
Majel was a fixture in the Star Trek franchise from day one. After meeting Gene Roddenberry in 1964 he cast her as Number One in the shows pilot with the hefty status of second in command. Unfortunately the studio exectutives weren't ready for a woman with that much authority and ordered a second pilot. Gene wasn't ready to give up on her yet. She changed her stage name, donned a blonde wig and accepted the role of Nurse Chapel. The rest, as they say, is history.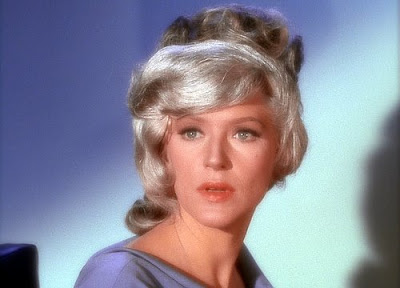 Majel married Gene in 1969 and had an ongoing involvement in his work. Together they had a son, Eugene Wesley Roddenberry Jr. in 1974. She then went on to star as Lwaxana Troi on Star Trek: The Next Generation as Deanna's outlandish and determined Betazoid mother. Her most prominent role in Trek was the of the ship's computer for all of the series and most of the feature films. She also lent her voice talents to Star Trek: The Animated Series and various computer games. Majel's parodied her talent as a computer as a guest-star on Family Guy.
Just over a week before her passing it was announced Majel would be reprising her role as the Starfleet computer in the true next generation of the franchise, J.J. Abrams
Star Trek
. Her work was completed in early December.
Majel passed away at her home in Bel Air yesterday morning, peacefully, due to complications from leukemia. She was surrounded by her family and son Eugene made this statement on the
official Roddenberry website
:
My mother truly acknowledged and appreciated the fact that Star Trek fans played a vital role in keeping the Roddenberry dream alive for the past 42 years. It was her love for the fans, and their love in return, that kept her going for so long after my father passed away.
Her iconic voice and exceptional talent and dedication will be missed by an entire galaxy and beyond.