The floor's on fire.
My copy of LEGO Indiana Jones: The Original Trilogy was dropped at my doorstep yesterday. I showed an overwhelming amount of restraint by not playing it right away so I could finish my DC panel article. I however could not call out of work to play a video game so I only got to play the first board before I left the house today. What I did play was…wait for it…ADORABLE! (Clack, clack, clack, clack)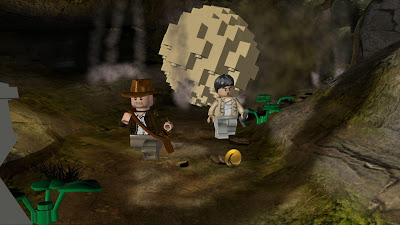 They hooked me immediately by letting Indy jump out of the school window to escape into the outside world and kept me going digging up artifacts. It was pretty much a given I was going to love this game, I love Indiana Jones and I loved the LEGO Star Wars games. I got it for my Nintendo DS because I think the LEGO series fits incredibly well with it. Even after completing Star Wars it's the game I'll most go back and play on the DS if I need a bit of fun.
The only downside so far I'm afraid to say has been the use of the whip. I know I only played one board but it takes some getting used to. It's easy enough to swing with it because it's basically done for you but as far as hitting things goes it's a bit difficult to aim directly. I resorted to punching the enemies I first came upon because the whip wasn't going anywhere near them.
Anyway I'm off to play it probably into the early morning hours!
Oh, and I'd like to take a second to thank Redhead Fangirl for adding me to the Comic Blog Legion. Us redheads gotta stick together you know?