Geek vs. Geek
I've been sitting on this one for a while but since my illustrious Executive Producer and CEO of
OMFGeek.com
, Jeff Koenig, has spilled the beans, I guess that means it's ok for me to talk about it. I'm going to be a judge on a brand-new game show called Geek vs. Geek!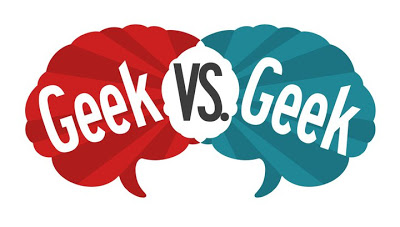 Simple premise. Two teams battle it out in three rounds to see who's the bigger geek. (And we all know that's a major title to have.) The debate rounds are things like Star Trek vs. Star Wars, Mac vs. PC, WoW vs. D&D, you get the picture. Believe me when I tell you, if you aren't a contestant, you'll be shouting at your monitor because you think you know better.
An audience vote partially decides the winner but the best part is I'm one of three judges who will be deciding which contestants are Brainiacs and which need to have their Geek Cards revoked. And yes! There'll be prizes!!
Check out an interview with Jeff as well as the
first teaser trailer here
! We haven't started filming the series yet so there's still time to become a contestant. Sign up for the mailing list at
GeekVsGeekShow.com
to be the first to find out when auditions will take place and don't forget to follow us on
Twitter
and Like us on
Facebook
!
Are you geek enough?