Halloween, Nerdy Bird Style
Candy, costumes and chainsaws. Oh my! It's time for my all-time favorite holiday. Prepare to be haunted.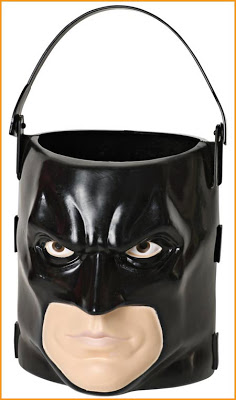 Batman rules all things but must he be degraded like this? The helpfully descriptive Batman Halloween Candy Bucket Trick Or Treat Pail can be yours for just $5.60. I'll take two.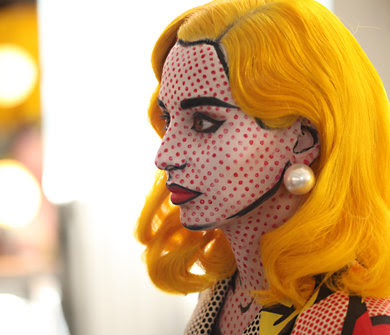 This one has been going around quite a bit this month and with good reason. This classic look was apparently done by a MAC make-up artist and it's simply astounding. It would make an excellent costume if one had the time. Also, a great way to scare the crap out of someone.
In the spirit of the holiday and the grand tradition that is comics, here are some SPOOOOOKY Halloween covers. Though really, nothing's scarier than the Batman bucket.
Mischief makers Jeph Loeb and Tim Sale know how to put together a frightening tale.

Young Justice. Nuff said.
I don't know what this says (even though I studied the language for three years) but it's German and they're scary without even trying.
This is indeed a disturbing universe.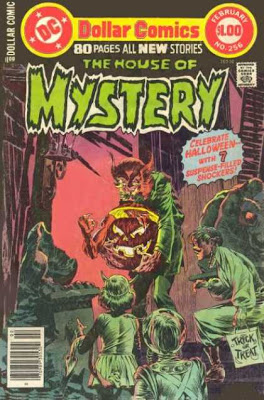 Of course, nothing says horror quite like some Bernie Wrightson art. The House of Mystery has been back for a while now and is a book you should be reading if you aren't. But this year Vertigo put out a new special. Featuring a creepy cover in it's own right, House of Mystery Halloween Annual #1 was pretty awesome. The issue features the mail HoM cast but tells stories featuring Hellblazer, Madame Xanadu, Merv Pumpkinhead and a sneak-peak at a new cast of characters I'm very much looking forward to reading about in a new book called I, Zombie. Plus, there's some fun extras in the back from the writers and artists about their Halloween memories.
Now it's time for you to give me a Halloween memory of yours. Scary, funny, sad, whatever! And what, if anything, will you be dressing up as tomorrow? I'm keeping my costume a secret until post-Halloween but here's my memory:
I always wanted to dress up as a Princess for Halloween and when I was 8 or 9 I finally got my wish. My mom made me the frilliest, puffiest, pink Princess dress around and I adored it. One of my classmates had their birthday party the night before Halloween at a McDonalds. I went in costume and wound up spilling ketchup ALL down my dress. As a result, my mother had to quickly whip up another costume for the next day at school. She made me a 1920s flapper and I whined and complained about it all day. Come to think of it, I guess I did get to act like a Princess that day after all. :)
HAPPY HALLOWEEN EVERYONE!
From, The Nerdy Bird