Happy Anniversary to Me!
In marriage, they say the first year is the hardest and if you can make it through that the rest will be a piece of cake. Does that go for blog writing too? I'd like to think so. Tomorrow is the one year anniversary of "Has Boobs, Reads Comics."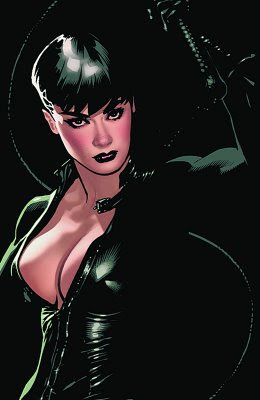 I'm working on something fun to post tomorrow so I thought today, I'd take a look back. Here are my top viewed posts of all year:
5.) Darmok and Jalad at Tanagra – My experience at my very first Star Trek Convention. I can't believe it took me that long.
4.) Who guards the Mouse Guard? – My interview with MG creator David Petersen. He's an extremely nice fella. If you aren't reading his comic, you should be.
3.) Batastrophe – My incredible frustration with the ending of Batman R.I.P. We know more about the "real" ending to the story now but that didn't make me feel any better.
2.) A Spell Is Cast – My excitement about Zatanna being cast on Smallville. This one shot right up the list recently due to Rich linking to me and the hot babe. Mostly the hot babe.
1.) NY COMIC CON Day 2 – 2 yaD NOC CIMOC YN – I was very happy with this post and I'd like to think my keen journalistic skills have something to do with it being number one but I'm gonna play it safe and go with "girl in costume" for this one.
Now that I've got that out of the way I want to link you to several of my favorite posts from this past year. Most of these didn't get as many hits as the top 5 but I'm proud of what I wrote so read them if you haven't and show some love.
I can't tell you how happy I am with the success of the blog in just one year. I enjoy it so much but it's been a lot of hard work. I want to thank everyone who's ever visited here and especially my loyal every day readers for keeping me going. Without you I'd be a regular old nerdy girl typing to herself. 
A lot of great stuff has happened this year. For one, I was in Elle FREAKING magazine! Never in my life did I think that would happen. Let's try for more of that kind of stuff this year. By the way, I finally found an online version of the article in case you never got to see it in print. I began writing my column, DoubleDCoverage (along with other bits) at the Girls Entertainment Network. If you don't believe hot geek girls exist, you're not looking very well. These girls rock and I wish we all lived closer so we could be geeky together offline.
I also met tons of awesome people! Creators, other bloggers, fellow nerds. Thank you for being who you are. Speaking of being who you are…remember my MTV True Life: I'm a Fanboy video? Doesn't look like they picked me but I enjoyed making it and I hope you got a kick out of watching it.
Oh and, the most highly used search in google to get here to my blog? "Boobs" by a LANDSLIDE. Thanks perverts!
So where to now? It's safe to say the fun doesn't stop here. Nerdy News is constantly happening and I have a lot more I'm sure to ADORE this year. Remember you can find me on Myspace, Facebook and Twitter now too and I hope you'll help vote me Best Geek Blog of 2009. There are some big things on the horizon for "Has Boobs, Reads Comics." It's nothing I can speak of yet but I'm hoping you'll all stick with my blog…what's that they say? As long as we both shall live? No pressure or anything. :)